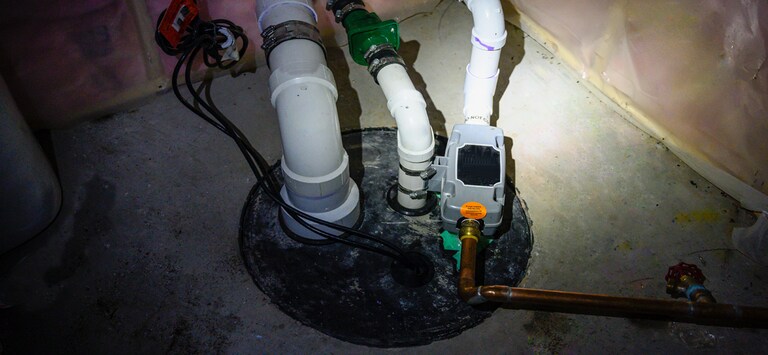 The Best Combination Sump Pumps of 2023
Top-Rated & Best-Selling Combination Sump Pumps
Two is better than one, and that's exactly what you get with a combination sump pump system. It includes both a primary pump and a battery backup pump built into one system. When disaster strikes, you'll be covered.
To help you choose the right system, I've made my selections for the best combination sump pumps on the market. Spend some time reading through each of the categories, selections, and criteria. Don't forget to click on the pumps to view the product page filled with more features, specs, reviews, and other great resources.
The Best Combination Sump Pumps
| Best 1/3 HP Combination Sump Pump | Best 1/2 HP Combination Sump Pump | Best 3/4 HP Combination Sump Pump |
| --- | --- | --- |
| | | SUMPRO Platinum |
---
How We Picked the Best Combination Sump Pumps
When recommending combination sump pumps, we are evaluating both a primary and battery backup pump. We consider five criteria.
Construction & Design
We start with the materials used to make the pump housing, base, impeller, and other components. Does it have the corrosion resistance of thermoplastic, the solid build of cast iron, or the cooling nature of aluminum or zinc? Sump basins are not glamorous locations. We need to make sure that both pumps in a combination system can handle the acidity, grime, and heat they will encounter down there.
Reliability
Since sump pumps are exposed to harsh conditions, we check what safeguards are in place to protect your investment. Besides construction, we also consider anti-corrosion features and how well the system can handle the heat generated by an active motor during those torrential downpours. The pump also needs to handle the inevitable dirt and other solids that will find their way into the pit. A rugged impeller and superior solids handling capability are critical for our recommendations. Finally, we rate pumps made in the U.S.A. higher due to better quality standards.
Battery
For the battery backup portion of your combination system, it's important to evaluate how the pump and battery work together. Some pumps can handle both DC (battery) power and AC or utility power. Other factors include battery life, which tends to be longer for pumps with lower flow rates, and charge time.
Monitoring Capability
The best combination sump pumps have superior monitoring capabilities. Once the backup pump activates, it still needs to monitor its own performance and alert you to any errors, malfunctions, or a dead battery. Our recommended pumps are all "on top of it" and can be trusted to back up your home.
Overall Value
We prioritize performance over price, so you won't necessarily find the cheapest combination sump pumps on our list. That's why, instead of evaluating a pump on price alone, we look at what you're getting for the price to arrive at an overall value rating.
---
Best 1/3 HP Combination Sump Pump:
Pro Series PS-C33

Get the best of both worlds with the Pro Series PS-C33 combination sump pump, which includes both a primary and backup pump. When the power goes out, the backup pump (which is the Pro Series PHCC-2400 recommended above) will kick in for uninterrupted protection. At 1/3-horsepower, the primary pump offers a very capable 3,000 GPH, while the battery backup pump will handle 2,400 GPH at a 10-foot head.
The Pro Series' exclusive monitoring system tracks battery functions and detects irregularities, sounding alarms as needed. This system also includes its own pump controller with a caged dual float switch for redundancy and added protection.
The PS-C33 is designed to operate with one or two Pro Series model B12-100 batteries and will run the 12-volt pump for up to 7 hours continuously with a single battery or 24-36 hours non-continuously. You can increase those run times with a second battery if you choose. Overall, I highly recommend this combination unit for its contractor-grade performance at a reasonable price tag and 3-year warranty.
Specs
Details
Rating
Construction & Design

Primary Pump: Cast iron/stainless steel housing; Stainless steel shaft; Dual carbon ceramic shaft seals; Polycarbonate impeller; Stainless steel fasteners

Backup Pump: Thermoplastic construction; Stainless steel shaft & fasteners

Reliability

Backup pump has non-corrosive thermoplastic housing and impeller; Caged dual float switch

Battery

Runs on both AC and DC power; Can accommodate 1 or 2 Batteries (Sold Separately)

Monitoring Capability

Detects irregularities, sounds an alarm, & pinpoints problems; Alarm can be silenced; Includes USB data port & remote terminal

Overall Value

Exemplary two-pump system for less than if you bought a primary and backup pump separately
Who It's For:
Homeowners shopping for their first sump pump who want a backup included
Who It's Not For:
Homeowners with an existing primary sump pump
---
If you're looking for a smarter solution to basement flooding, the Zoeller ProPack98 is it. It's a combination primary and backup sump pump with "brains" in the sense that it connects to the internet, allowing you to control everything from a mobile device. Its Z Control® Technology lets you test, run, reset, and take other remote actions, and you'll get alerts emailed or texted to you.

The 1/2-horsepower motor on the primary pump can handle 4,320 GPH at 5 feet of head lift, while the backup pump will handle 2,580 GPH over the same distance. A cast iron design and non-clogging impeller strengthen the primary pump for years in the pit. The 12-volt backup pump has an aluminum seal pocket and cooling plate for extended operation and will charge automatically once power is restored. Its 7-amp battery charging system includes battery burnout and overcharge protection.

With the Zoeller ProPack98, you'll be able to leave your home without worrying about whether the sump pump is working or not. Monitor everything from your device and take remote actions when necessary. It's the future of sump pumps, and I'm thrilled to recommend it!
Specs
Details
Rating
Construction & Design

Primary Pump: Cast iron design & non-clogging engineered plastic vortex impeller

Backup Pump: Aluminum seal pocket and cooling plate for extended operation

Reliability

Dual float switch; Thermally-protected motor; Can pass 1/2-inch solids; Motor is oil-filled and hermetically sealed to prevent overheating

Battery

Runs on DC power; 7-amp automatic battery charging system with burnout & overcharge protection; Can accommodate 1 or 2 Batteries (Sold Separately)

Monitoring Capability

WiFi-enabled for remote monitoring; Built-in alerts for high-water, pump cycled, faults & issues; Alarm can be silenced

Overall Value

Premium pricing worth it for those who embrace smart technology
Who It's For:
Tech-friendly homeowners looking to add to their smart home
Homeowners shopping for their first sump pump who want a backup included
Who It's Not For:
Homeowners with an existing primary sump pump
Low-tech homeowners
---
Best 3/4 HP Combination Sump Pump:
SUMPRO Platinum

With its advanced technology, unmatched redundancies, and heavy-duty performance, the SUMPRO Platinum is on another level when it comes to sump pumps. The system consists of two 3/4, 115-volt horsepower sump pumps supported by two included batteries that can charge via AC or DC power. Alternative DC inputs on the inverter allow charging from wind and solar power if needed.
The cast iron pumps can lift water 10 feet at a whopping 5,000 GPH and handle solids up to 3/16". Instead of float switches, the SUMPRO uses Ion Genesis sensors to detect water levels. These sensors have no moving parts or pieces
to fail and will far outlast traditional switches. They can also identify problems like a broken impeller, stalled pump, discharge issues, and excessive water flow. Thermal protection prevents the motor from overheating during high-use situations.
All of this is controlled by the Ion Genesis Controller, which coordinates when each pump runs and alternates between them. It monitors all pump activity,
including pump running current, pump trending, and self-testing. All of this state-of-the-art technology results in a high price point, but it's extremely worth it for heavy-duty sump and utility applications.
| Specs | Details | Rating |
| --- | --- | --- |
| Construction & Design | Cast iron construction; Ion Genesis sensors eliminate moving parts and outlast traditional float switches | |
| Reliability | Thermally-protected motor; Can pass 3/16-inch solids | |
| Battery | Two batteries included; Can charge via AC or DC power; Includes alternative wind and solar charging inputs | |
| Monitoring Capability | State-of-the-Art Ion Genesis Controller monitors & controls pump operation; Ion Genesis Sensors detect pump problems; Built-in 80 dB audible alarm and illuminated LCD screen | |
| Overall Value | Advanced, heavy-duty system at a premium price point that is worth it for demanding applications | |
Who It's For:
Households with high water tables
Households in low, flood-prone areas
Who It's Not For:
Households with low or average water tables
---
Combination Sump Pump FAQs
What is a Combination Sump Pump?
Combination sump pumps contain both a primary and battery backup pump in one system. Instead of buying separate pumps, you can get a packaged solution from the get-go.
How Does a Combination Sump Pump Work?
The pumps in a dual sump pump system work together to handle high water situations. When the primary sump pump fails due to a power outage or rapid water flow, the backup pump will kick on automatically. In all systems, both pumps have their own float switch, but that operational process might vary slightly, depending on the system.
Some systems, like the SUMPRO Platinum, use two Ion Genesis Sensors. The first one is the operational sensor, which activates the primary pump when water reaches a pre-adjusted point in your basin. The second one is a high water sensor, which only activates if water continues to rise and reaches a higher point in the basin. At that point, both pumps will work together to clear out the water.
---
About Jim
Jim has nurtured a professional obsession with pumps for nearly 30 years. After spending well over a decade selling pumps for an HVAC wholesaler, Jim joined the Power Equipment Direct team as a product expert and hasn't looked back.
Over the past 13 years, Jim has helped thousands of PED customers find, size, and purchase the perfect sump pump, water pump, or pressure washer for their needs. In doing so, he has accumulated vast knowledge about the different kinds of pumps and their manufacturers. He has also participated in many video productions highlighting pump installations, performance, and applications.
A native Chicagoan, when he's not pumping out expert advice, Jim enjoys just about every cold-weather activity, especially skiing. Despite being visibly agitated by warmth and sunshine, James stays busy during summer by fishing and taking photos. Most of all, he enjoys spending time with his family and grandkids as much as he can.
Was this article helpful?