Best Electric Snowblowers of 2023
Top-Rated & Best-Selling Electric Snowblowers
Electric snowblowers are a clean, affordable upgrade from a shovel. To help you choose the best one, we've put together the Best Electric Snowblowers of 2023 based on our best-selling, highest-rated models with expert recommendations to ensure you get the perfect type for your needs.
If you're not sure what kind of electric snowblower you need, check out our Electric Snowblower Buyer's Guide to get started and come back to the list for an expert recommendation.
---
Best Electric Snowblowers List

You can scroll down through the full list of the best electric snowblowers, or simply click on the one you want to see right away.


1
Expert Review
Tired of dealing with gas and oil? The new Toro 60-volt Power Clear asks only that you push the easy button! No more worries about bad gas or flooded carburetors. The 7.5Ah lithium-Ion battery is extremely efficient. This machine can throw snow over 40 feet and includes a panoramic LED light! Because it is lightweight, you can use it on decks and stairways. The battery works with the whole family of Toro products including Toro lawnmowers and string trimmers! The sleek design allows you to store the blower in small spaces. You can't go wrong with the next generation in battery-powered snow blowers. Plus, with such a quiet machine, you won't need to worry about waking your neighbors.
Features
60-Volt MAX Snow Removal
Provides gas-like performance with none of the downsides
The days of gunked up carbs are over; virtually no maintenance needed
Capable L405 60-Volt, 7.5Ah Lithium-Ion Battery
Extremely efficient and powerful with 405-watt hours
Runsmart speed control optimizes battery life for longer runtimes
NEW! Power Edge™ Auger
Toro's patented all-steel Power Edge™ auger rips through snow
Ideal for asphalt and concrete - capable of throwing snow 40+ feet!
Intuitive Shoot & Locking Deflector Controls
No tricky lever adjustments, simply adjust the shoot to your liking
Take seconds and allows you to throw the snow where you want it
LED The Way
Includes panoramic LED lighting for when the days get shorter
Significantly improves safety allowing you to see what's in front of you
---
2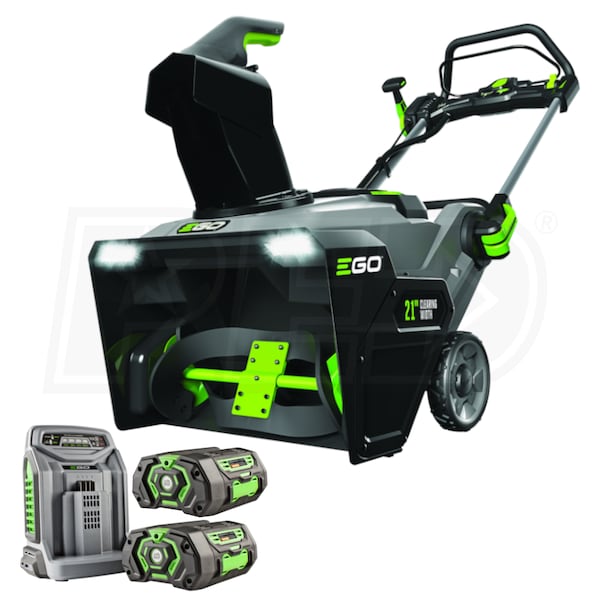 Features
High-Efficiency Digital Brushless Motor
Start with no effort; just press the button and go!
Offers peak performance with hardly any maintenance
Starts the first time every time
Peak Power™ Technology
Remove heavy, wet snow with ease!
Combines the power of 2 EGO POWER+ 56-Volt ARC Lithium-Ion batteries
Variable-Speed Auger
Simply control how far the snow is thrown
Throw snow up to 35 feet
Handle-Mounted Chute Adjustment
Conveniently re-direct snow up to 180°
Compact Storage
Quick-fold handle for easier storage and transportation
---
3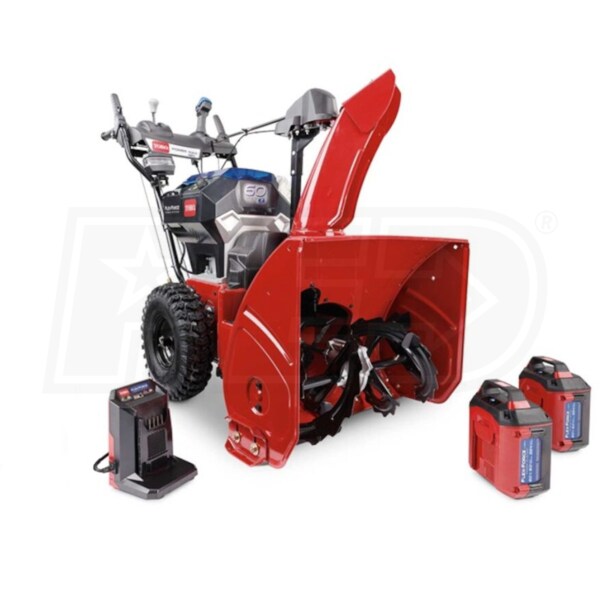 Features
60-Volt MAX Snow Removal
Quiet, easy, no hassles, no cords & no engine exhaust
Delivers gas-like performance with virtually no maintenance
Clears up to 24 car spaces in up to 10" of snow w/ two 6.0 ah batteries
Capable L324 60-Volt, 6.0 Ah Lithium-Ion Batteries
The extra battery provides you twice the clearing power
3rd battery port lets you clear up to 30 car driveway (3rd battery sold separately)
Power Max Anti-Clogging Auger System
Durable hardened gears and auger; shear pins not required
Ideal for asphalt, gravel & concrete - capable of throwing snow 40 feet!
Quick Shoot Control & Locking Deflector Controls
One-hand operation levers to simply adjust the shoot
Change speeds or the chute control without stopping
LED The Way
Includes panoramic LED lighting for when the days get shorter
Vastly improves safety allowing you to see what's in front of you
---
---
View: All Electric Snowblowers
Was this article helpful?