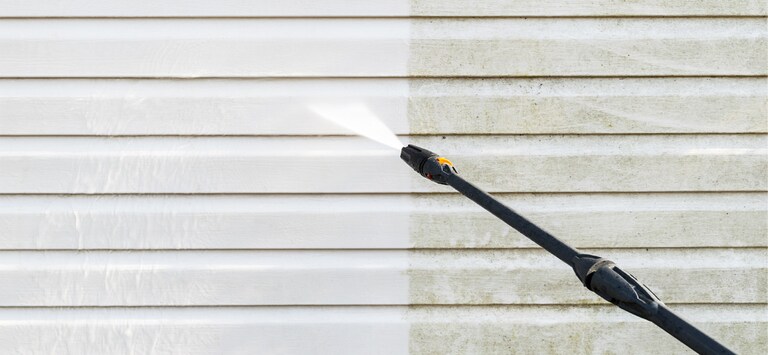 Rotary Turbo Nozzle Buyer's Guide
How to Pick the Perfect Rotary Turbo Nozzle
You can literally carve your name in wood with a red zero-degree spray tip. Unfortunately, the pencil-thin stream is so narrow that it can't cover much surface area. It would take a very long time to clean a driveway with a zero-degree spray tip. Now, imagine the strength of a red spray tip spinning at supersonic speed.
That's what a turbo nozzle does. By spinning the stream of water, it cleans a wider path. This way, you can clean larger areas with the highly concentrated zero-degree stream.
How Does a Turbo Nozzle Work?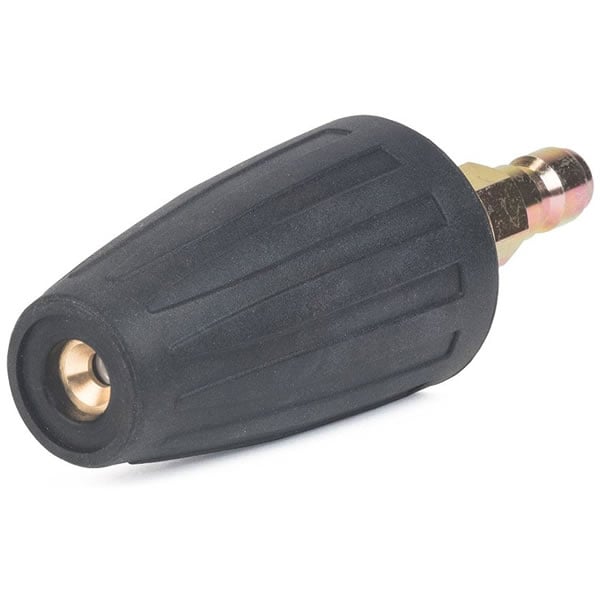 A rotary turbo nozzle automatically spins a zero-degree spray tip in a 4-8 inch circle at 3000 rotations per minute. The spinning water jet hits the surface area from multiple angles, quickly breaking down caked-on dirt and grime. As a result, rotary nozzles can cut cleaning time in half.

They are designed to work by attaching to a pressure washer lance using specific connections, and cannot be attached directly to any other water source, such as a garden hose.
Why Sizing a Turbo Nozzle is Important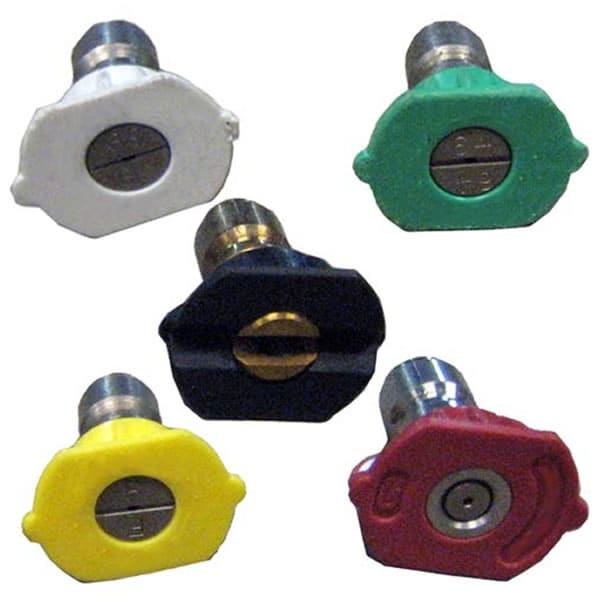 Picking the right turbo nozzle is similar to selecting spray tips. This is important because the purpose of a turbo nozzle is to fully utilize the highest pressure possible while increasing the coverage area of your pressure washer. If the turbo nozzle orifice is sized too large, it will dilute the pressure, and if it is too small, it will break under too much PSI. The wider the orifice, the lower the end pressure will be.
The turbo nozzle works along with your spray tips. You can further dilute pressure by using other tips that have wider cleaning angles if desired. For example, a 25-degree tip will result in lower cleaning pressure than the zero-degree red tip.
How to Choose a Turbo Nozzle
The proper way to size a turbo nozzle is to choose the orifice size based on GPM (gallons per minute rating) and PSI requirements (use the chart below). After you have an orifice size selected, you have a few other things to consider:
How will it attach to your pressure washer? (Inflow Coupler)
Is it rated for hot water and cold water? (Temperature Ratings)
Most of the time, the coupler will be a 1/4" male snap coupler, but this is not always the case, so read the description closely to be sure you're ordering what you need in order to make the connection. It's easy to assume any turbo nozzle will work universally, but that just isn't the case and these things are important to consider for your needs.

Largely, the orifice size will decrease with the higher pressure required, which can be seen in the chart above. To read the chart, for example, a pressure washer putting through 3 GPM at 1,200 PSI would need a turbo nozzle with a 5.5 orifice size. Most consumer-grade pressure washers can produce on average 2,400 PSI of pressure. So, if your pressure washer handles 2,400 PSI at 2.5 GPM, a small turbo nozzle with a 3.0 orifice would suffice.
On the other hand, a professional-grade machine can generate up to 5,000 PSI of pressure. The same 3.0 orifice will work flawlessly and even handle higher GPM, but you'll need a much thicker turbo nozzle to withstand twice the pressure, or you'll risk breaking the internal ceramic parts used in the nozzle. This is where the PSI ratings are very important for sizing the highest pressure limits of your turbo nozzle.
What Are Turbo Nozzles Made Of?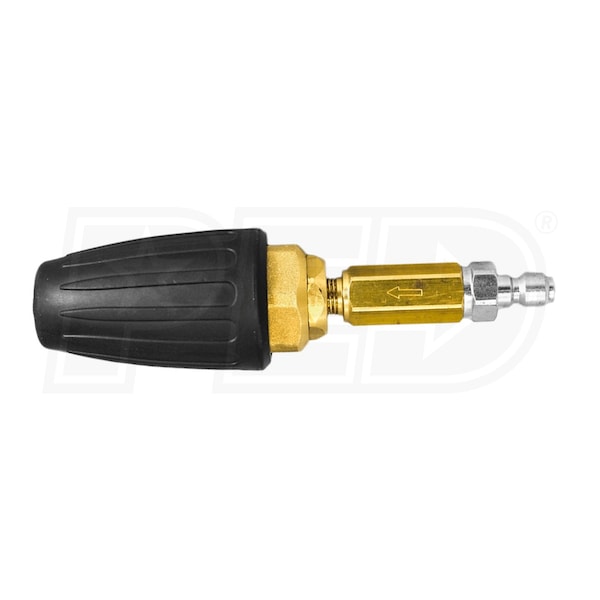 Most turbo nozzles contain elements of ceramic, alloy, aluminum, stainless steel, brass, and plastic. Turbo nozzles are designed to optimize and maximize the pressure you can get out of your pressure washer, all the while cleaning surfaces faster without exerting more effort.
While turbo nozzles are typically durable, if you size them incorrectly you can risk cracking the ceramic internal core and rendering them useless. This is why the sizing is important.


How to Use a Turbo Nozzle
Once you choose the right nozzle, how do you connect it? Connecting it should be simple once you choose the proper connection, typically a 1/4" quick connect that attaches to your lance in seconds. If you need to change tips and have a quick-connect attachment, simply lift up the retaining piece, insert the new nozzle, then release the retainer to secure it into place.


Once the turbo nozzle is connected, start the pressure washer and start spraying immediately nearby your target. Gradually move toward your target after testing the pressure and observing the results. You'll get used to the circular cleaning pattern quickly, and you'll pick up cleaning speed in no time at all.
Keep in mind that running your pressure washer without pulling the trigger can cause damage to your pump or cause overheating. Your turbo nozzle does not act like an
unloader valve
, which prevents that damage, so be sure to turn off your pressure washer as soon as you pause when cleaning to be safe.
When you're done using your turbo nozzle and it's been disconnected, carefully use a pin to clean the nozzle and all tips before each use.
Common Applications for Turbo Nozzles
Ready to test out a turbo nozzle? Here are some ideas to get you started with cleaning better, faster. Many cleaning projects are made tougher because of small angles, large areas, and hard-to-reach crevices. These projects can be completed at least twice as fast with a rotary turbo nozzle, and they make cleaning faster and a more pleasant experience.
Do you still want more ideas to clean? Check out all the other ways you can use a pressure washer around the house.
Was this article helpful?