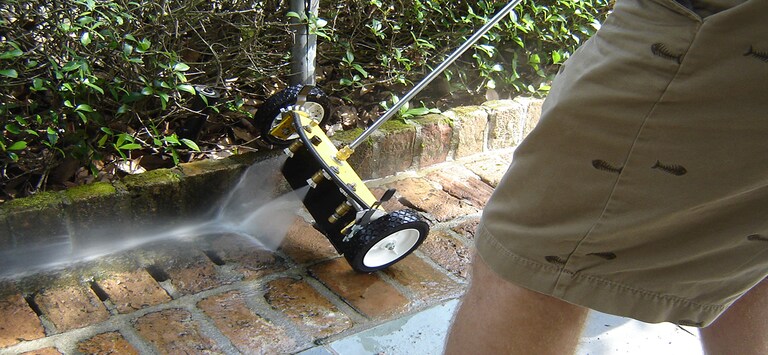 Water Broom Buyer's Guide
How to Pick the Perfect Pressure Washer Broom
Pressure washer water brooms make it simple to turn an afternoon cleaning job into a fun task you can accomplish in a fraction of the time.
Imagine having the power of three or more spray nozzles being used in a perfect line, at the same pressure, and cleaning at the same time. That's the power of a water broom.
Learn the benefits and applications of the concrete-cleaning, sidewalk washing, and large-area cleaning machine known as the water broom.
What's a Water Broom?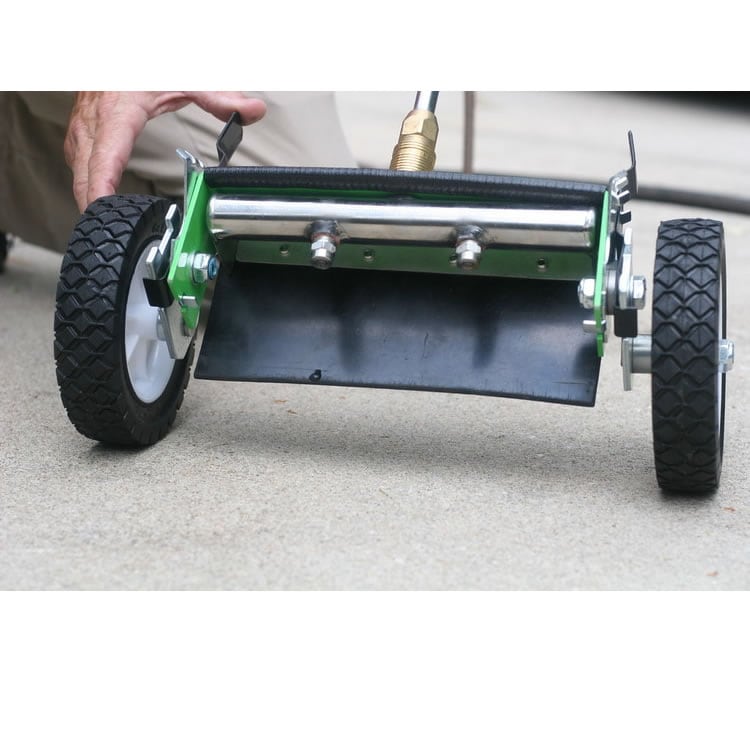 Water brooms are amazing tools that make quick and easy work of cleaning large surfaces. They're easy to use and work similarly to how you push a broom, which is how they got their name.
They attach to any standard pressure washer wand and can offer customizable operation features, such as height-adjustable wheels, nozzle interchangeability, and the ability to use quick-connects to attach to your pressure washing system.
Water brooms are very simple to set up and use, making them the ideal accessory for any pressure washer setup, and any job cleaning large, flat surfaces.
Pressure Washer Water Broom Benefits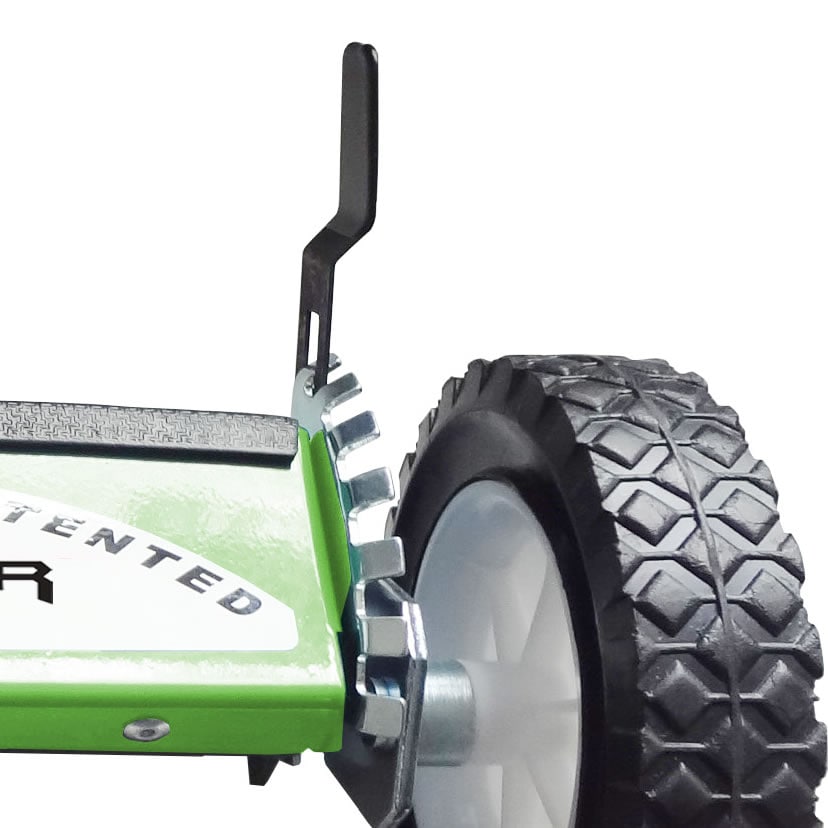 Water brooms are virtually effortless to use because the pressure washer wand doesn't need to be carried; it rests on the ground on the sturdy wheels of the power broom, reducing strain and fatigue. Just roll it along a driveway, sidewalk, or deck to clean off debris and deeply clean away grease, grime, and stains all at once.
Plus, because you're cleaning large surfaces much faster, you'll spend less time cleaning overall while getting an even, efficient clean every time. Some models offer two, three, or sometimes five nozzles for maximum coverage for areas up to 24" or wider, in some cases.
Most water brooms will have adjustable wheels to get in closer to or further from the surface to help control pressure and spread of the spray tips. Many also come with a rear flap meant to keep water moving forward only, controlling overspray and keeping your feet dry while cleaning.
How to Use a Water Broom
The thing you'll love most about pressure washer brooms is that their uses expand as you get more creative. Again, a water broom moves just like a broom on wheels.
A simple rule of thumb is to clean in straight lines along the length of the surface you're cleaning, overlapping each pass by about 25% to eliminate lines or "striping" on the ground. Below is a list of common water broom uses to try first.
Cleaning Garages and Driveways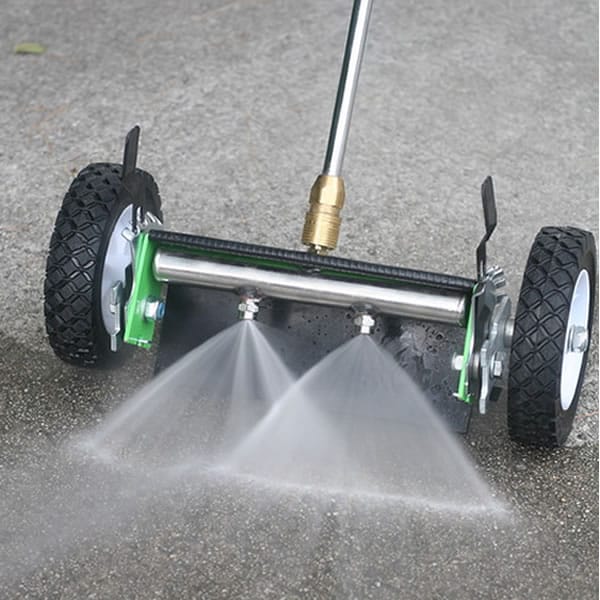 Water brooms usually have a rubber flap that prevents water from spraying behind the direction you clean, making cleaning enclosed spaces like a garage floor easy.
Cleaning your driveway is just as simple. Begin cleaning at the top of the driveway, and direct water down toward the nearest drain as you work your way down.
The broad area of coverage you'll get means you'll be done cleaning an average driveway much faster than using just your surface cleaner or even a single turbo nozzle. Plus, water brooms make removing stains from concrete driveways a simple task as well.
Cleaning Sidewalks and Patios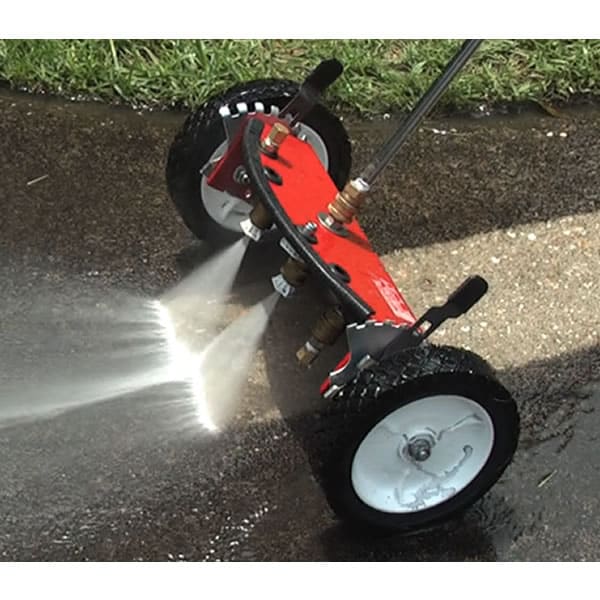 Usually, what we see happen is that people have so much fun cleaning their driveways, they continue into the street and down their sidewalks.
Cleaning sidewalks is another common use for water brooms, especially because the larger wheels can traverse the grass on either side without stopping or readjusting, giving you a perfect line every time.
Patios are another ideal place to clean with a water broom, since the stones, bricks, or other material may be separately laid with spaces in between. The even cleaning of the water broom makes it simple and efficient to clean those surfaces without digging into the creases and blowing out the dirt laid between each block.
Cleaning Decks and Docks
Using a regular pressure washer spray pattern on decks and other wooden/composite surfaces can cause chipping and uneven spray marks. Water brooms solve this problem because they clean in a wide, straight path at equal pressure and distance. As long as your pressure is set correctly, you'll be able to clear two boards per pass on the average deck without worrying about leaving uneven marks or chipped boards.
Docks, whether stainless steel or wood, tend to get grimy in both freshwater and saltwater locations over time, and water brooms make quick work of restoring the walkways back to a like-new state.
Cleaning Under Vehicles and Cars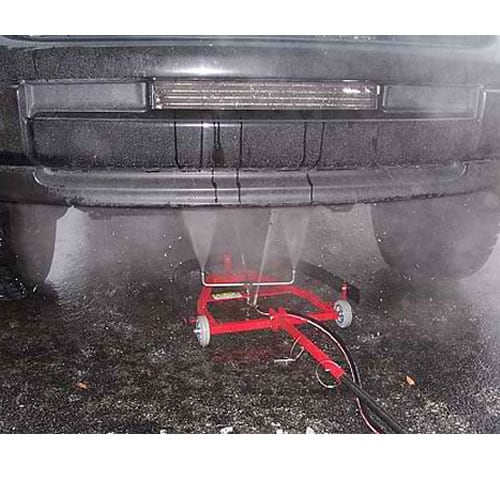 Water broom undercarriage cleaners are a variation of water broom that has the spray jets turned upward instead of pointing toward the ground. This is extremely helpful during wet seasons when dirt and grime can build up under the vehicle where normal pressure washers can't reach. You can give your car's underbody a professional clean right in your driveway using these types of water brooms.
Fourwheelers, all-terrain vehicles, boats, and tractors that are raised up can all be professionally cleaned without much effort with an underbody pressure washer.
Some water brooms have the ability to direct the nozzles in both directions for more versatility when cleaning above and beneath different surfaces.
Get a Quick, Even Clean
Water brooms will make any large surface cleaning job simple and fast, and their low cost makes them a perfect attachment to add to your cleaning gear. Since they are so simple to use, they've become much more popular in the last few years. With so many features and customizations offered from each brand, it's simple to upgrade and start cleaning fast and better than ever before.

NEXT: Shop All Water Brooms
Water Broom FAQ's
There are many frequently asked questions about water brooms that we regularly receive. We answer some of the most common questions below.
How Much Water Does a Water Broom Need?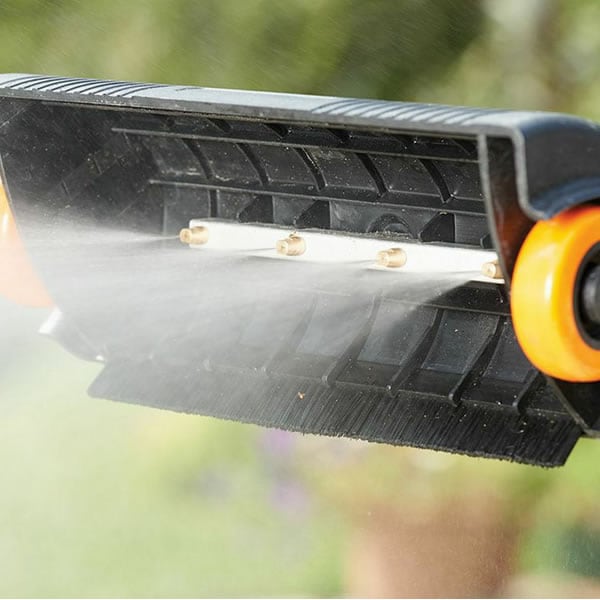 For a water broom to work correctly, you must have enough water flowing from your pressure washer and into the attachment. Most water brooms have recommended ratings for PSI (pounds per square inch) and GPM (gallons per minute), so matching a water broom to a pressure washer you already own can be done rather easily.
GPM requirements matter because the pressure and flow of the water coming from your pressure washer will be split between each nozzle on the water broom. If there isn't enough GPM flowing, your water broom will start sputtering and will not operate correctly. Below is an example chart listed on our product pages.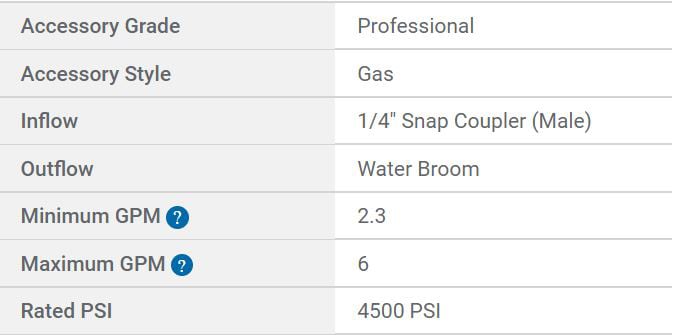 How is a Water Broom Attached to a Pressure Washer?
Most water brooms can be attached to a pressure washer wand using a 1/4" Snap Coupler (Male) or quick-connect adapter. Keep in mind that some brands will not be compatible with some wands, which will be noted in the product description.
Once the connection is made, turn on the pressure washer and use your wand to control the water broom as you roll it along flat surfaces.
Will a Water Broom Work With Any Pressure Washer?
Water brooms will attach to almost any pressure washer with a standard connection, such as the 1/4" Male Snap Coupler. However, some brands make different wand sizes, so the important thing is to read the product description for compatibility limitations, or ensure that there is a connector available to attach the water broom to your pressure washer.
What's the Difference Between a Water Broom vs. Surface Cleaner?
Surface cleaners and water brooms are both pressure washer attachments that are meant to do the same thing in slightly different ways: clean larger areas quickly and evenly while using a pressure washer.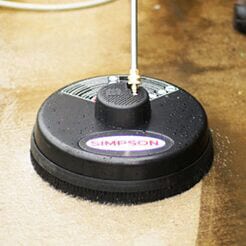 A surface cleaner operates more like a floor-buffer, cleaning in a circular pattern using multiple spray tips that spin rapidly underneath a guard that protects water from spraying up while working. As a result, surface cleaners have virtually no overspray but can only clean in a circular pattern, making straight-line cleaning or edging much more difficult than using a water broom.
Also, some surface cleaners can be as wide as 36" or more, giving them a much wider cleaning area than most water brooms.
One unique benefit of water brooms is that they can be used on non-level surfaces. Unlike surface cleaners that have a flat bar that rotates, water brooms move on wheels so they can technically clean unlevel surfaces without taking damage, although your results won't be as great as cleaning a flat, level surface.
Can You Use a Water Broom to Clean a Roof or Windows?
When people ask about cleaning windows or roofs, they are usually confusing power washer brooms for brushes that dispense water or soap, similar to the brush you would use at a do-it-yourself car wash.
However, there are times when people attempt to clean a metal roof with a water broom. Even though metal roofs are more durable and less likely to be damaged, we still don't recommend using one on rooftops or windows as it can be dangerous, and the high pressure can also destroy shingles and break windows.
Have More Questions?
Our experts are ready to answer any question you have on pressure washers, water brooms, accessories, and much more. Give us a call; we're here to help!

Contact Us Today
Was this article helpful?