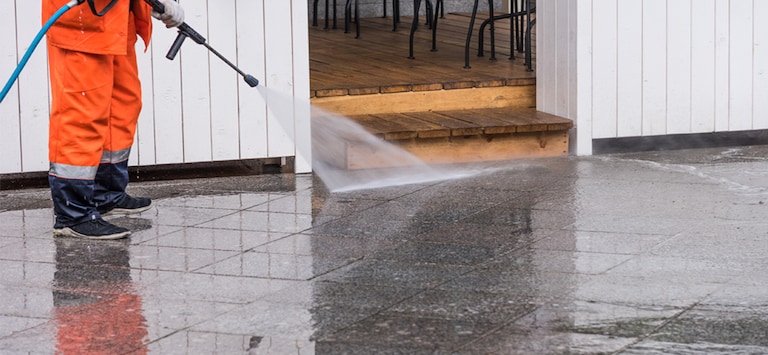 Cleaning Commercial Kitchens
How to Pick the Perfect Power Washer for a Restaurant
The right pressure washer can significantly reduce cleaning time in your restaurant, increasing efficiency and speeding up production. But purchasing a pressure washer for your business can be a difficult task. With all the different models and options currently available, it's easy to get lost in a sea of choices.
Electric

Gas-powered pressure washers produce carbon monoxide gas, which can be deadly indoors or in poorly ventilated areas. Electric power washers may not always be as powerful as their gas counterparts, but they produce more than enough power to tackle this assignment. Just plug them in and go. In addition to being safe indoors, they're easier to start and don't require all of the maintenance that comes along with a gas engine.
Wall-Mounted

Space in a restaurant is always limited. Installed directly in your kitchen, electric wall-mount pressure washers stay out of the way. They are typically hardwired into your power supply. Make sure the pressure washer you choose is compatible with the electricity coming in to the restaurant. Once you close up for the evening, you just turn on the pressure washer and commence cleaning. Blast grease off of grills and griddles, spray the floor clean of grease and food, and squeegee the resulting water and residue down the floor drains. For less mess, look into water reclamation.
Warm Water
Warm tap water will destroy an ordinary electric pressure washer. Warm water units come with a professional-grade pump, which can withstand heat. These pressure washers are equipped with heaters that can raise the water temperature up to 180 degrees. If you've ever washed dishes in cold water, you know how ineffective it is. Now imagine trying to clean a fryer with cold water. Hot water will melt away the solidified grease in the kitchen. You can use less detergent too, which means saving some money in the long run. Hot pressurized water alone will soften and rinse away most grease without any detergent.
Extension Hose

Because wall mount units are stationary, you'll need a 50-foot high pressure hose to be sure you can reach every inch of the kitchen. With an extension hose, you can also power wash the back dock and garbage corral. Be sure to get a quality hose that will stand up to frequent use, and consider a quick connect kit to make set up and take down of extension hoses easier.
Degreaser

Naturally, warm soapy water will always clean better than cold water alone. Pressure washer degreasers are designed to cut through and remove stubborn messes. If you plan to use the pressure washer to dispense the soap, make sure that it's pressure washer safe. Otherwise, unapproved soaps can damage the seals in the pressure washer. Even with a hot water pressure washer, you should use detergent every other time to ensure all grease is being loosened and washed away.
Was this article helpful?