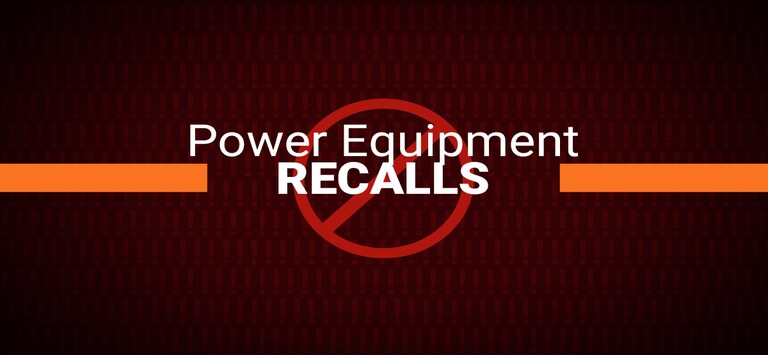 Power Equipment Direct Safety Recalls
Product Recalls for Power Equipment
Safety is no accident!
We care deeply about the safety and satisfaction of our customers. That's why when a safety recall is issued by a manufacturer, we take immediate action to inform customers of any risk or repair that is necessary to keep them safe and happy.  
As these defects are detected, recalls are announced by the Consumer Product Safety Commission (CPSC). Here, you'll find information and instructions regarding how to get your recalled power equipment serviced and access to the CPSC's product recall pages.
Generator Recalls
May 2, 2018 - Kohler Issues Voluntary Recall: 100ASE Automatic Transfer Switch
Under certain conditions, a joint connection may relax over time, creating a potential risk of heating and failure of the connection. 

Kohler RXT Series 100-Amp Automatic Transfer Switch 
Pressure Washer Recalls
April 25, 2018 - Briggs & Stratton Recalls 3000 PSI Surface Cleaners
The surface cleaner's spray bar can break and detach from the central hub, causing broken pieces to strike consumers, posing an injury hazard.



Briggs & Stratton Recalls Surface Cleaners Due to Injury Hazard 
HVAC Recalls
March 1, 2018 - Goodman PTAC Motor Shield Recall 
The outdoor fan motor can overheat, posing a fire hazard. Customers should immediately contact Goodman to participate in the corrective action plan. 



Goodman Company Recalls PTACs Due to Burn and Fire Hazards
Chainsaw Recalls
February 1, 2018 - Greenworks & Snapper Electric Chainsaws
The chain brake guard in the cordless electric chainsaw can fail and allow the chainsaw to continue operating, posing an injury hazard to users. These products have been discontinued on our website. 



Greenworks Model: 2000002


Greenworks Model: 2000402


Snapper Model: 1687887


Greenworks/Snapper Cordless Chainsaw Recall Bulletin
Lawn Mower Recalls
October 18, 2016 - Husqvarna Recalls Lawn Mowers Due to Laceration Hazard


Husqvarna Recalls Lawn Mowers Due to Laceration Hazard 
November 24, 2015 - Toro TimeCutter Riding Mowers 2015


Toro Recalls TimeCutter Riding Mowers Due to Fire Hazard
Tiller Recalls
July 23, 2015 - Husqvarna, Poulan Pro, and Jonsered Rear-Tine Tillers


Husqvarna Recalls Lawn and Garden Tillers Due to Risk of Bodily Injury, Laceration
Leaf Blower Recalls
July 22, 2015 - GreenWorks 12A Electric Blower/Vacuums


GreenWorks Blower/Vacs Recalled by Sunrise Global Marketing Due to Fire and Burn Hazards
Snow Blower Recalls
April 24, 2014 - Ariens Compact Sno-Thro & Power Brush 2013-2014 Recall


Ariens Recalls Snow Throwers and Power Brushes Due to Amputation and Laceration Hazards
Was this article helpful?