From Bags to Riches: The Story of John Kitchin
eComfort Partners with Rising Cornhole Champ
BOLINGBROOK, IL (January 25, 2020) - John Kitchin is a living testament to the power of fierce dedication and a competitive spirit. The New Jersey resident has transformed himself from an amateur backyard bags player to a professional cornhole champion in a few short years.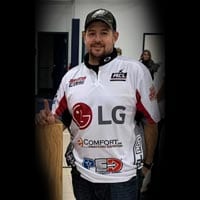 Kitchin recently defeated the nation's top 32 players to become the 2019 Devour Man of the Year. Overall, the American Cornhole League (ACL) ranks him as the eighth best cornhole player in the nation and as the best in New Jersey. Few might believe that just six years ago he was throwing bags for fun with work buddies.
Now, Kitchin has partnered with
eComfort.com
, the online leader in home comfort solutions, which will support him as he continues his professional cornhole journey.
Kitchin partnered with eComfort.com due to his appreciation for many of the home comfort products the company offers, from heating and cooling equipment, to
water quality
, and even
kegerators
. "I couldn't be more excited to have eComfort working with me," he said. "I'm familiar with many of their products, including LG, and can't wait to represent them in competition."
According to Phil Covington, Category Manager at eComfort.com, the partnership sprouted from Kitchin's ongoing relationship with LG, a vendor partner of eComfort.
"Our vendor LG already had a great partnership going with John Kitchin, so we felt this was a natural step," explains Covington. "We look forward to seeing John compete while representing our company."
Cornhole, known popularly as "bags," is a growing sport and pastime in the United States, with 10,000 tournaments played across the country each year on the local, regional, and national levels.
"As a sport, cornhole has grown exponentially over the past few years, and I expect it to continue," said Kitchin. "It can be played by everyone from my six-year-old nephew, to my 65-year-old grandfather, which is why the appeal is so wide."
Kitchin began his cornhole career playing in a work league when a friend recognized his talent and suggested he try local tournaments. "I'm a pretty competitive guy, so as I began winning tournaments, I naturally advanced onto the regional and national stage," he said. "There's always something driving me to the next level." His future goals include becoming the ACL Player of the Year, as well as winning a gold medal if cornhole becomes an Olympic sport.
To compete professionally, Kitchin practices for roughly 32 hours per week, where he throws 2,000 to 3,000 bags. According to him, keeping mental focus is the most challenging part of the sport. "The person you're playing against might throw 40 bags in the hole in a row," he explained. "Knowing you have to overcome that challenge can be daunting, so you really need to concentrate and focus to win."
At the end of the day, Kitchin said the relationships he has formed during these past few years are the most rewarding part of the sport for him. "I enjoy spending time with my 'cornhole' family of people I have met across the country," he said. "The shared comradery and passion for the game is what keeps me coming back."
Kitchin competes about three times per week and regularly attends regional and national tournaments, which are often broadcasted by ESPN. For more information about profession cornhole, schedules, and rankings, please visit
www.iplayacl.com
.
eComfort specializes in providing a wide range of home comfort solutions that help homeowners enjoy indoor life. With factory-direct prices and U.S.-based product experts available by phone, eComfort makes buying home comfort equipment simple.
Since 2002, Power Equipment Direct's mission is to "Make buying technical products simple." Utilizing specially-trained product experts, its wide selection of power equipment and HVAC products, and its U.S.-based support team, Power Equipment Direct provides a streamlined shopping experience designed to save customers time, money, and hassle. Read more about Power Equipment Direct and its family of online superstores.
All media queries directed to: