Best Walk Behind Lawn Mowers
Best-Selling & Top-Rated Walk-Behind Lawn Mowers
Every lawn is different, and so is everyone's mowing preference. Walk-behind mowers offer a solution for each, from reel mowers, to wide area walk mowers. But it can be hard to choose! That's why we put together the Best Walk-Behind Lawn Mowers of 2022 based on our best-selling, highest-rated models with expert recommendations to ensure you get the perfect type for your needs. 
If you're not sure what kind of walk-behind mower you need, check out our Walk-Behind Lawn Mower Buyer's Guide to get started and come back to the list for an expert recommendation. You can also peruse our other lists of Best Lawn Mowers.

Happy mowing! 
---
Best Walk-Behind Lawn Mowers List

You can scroll through the full recommended list of self-propelled electric and gas walk-behind lawn mowers below, or simply click on the one you want to see right away. For those who prefer a workout, we also included our recommendations for the best push mowers!


Best Gas Self-Propelled Mower
1
Features
NEW Premium Honda GCV200 200cc 4-Cycle Engine
Longer engine life, powerful and easy to start
Innovative Select Drive™ Variable Speed Drive System
Use the speed adjust dial to set desired speed range
Let's you control your speed while you mow
21-Inch Worry-Free Nexite® Cutting Deck w/ Lifetime Warranty
High impact resistant material does not dent, rust, or corrode
Patented 4-In-1 Versamow System™ w/ Clip Director® Control
Mulch, bag, rear discharge or shred w/ no parts to lose
Maximizes the flow of grass clippings & minimizes clogging
MicroCut™ Twin Blade System
Four cutting surfaces to cut grass into tiny pieces
Mow up to 50% farther between "empties" when using rear bagger
---
Best Cordless Self-Propelled Mower
2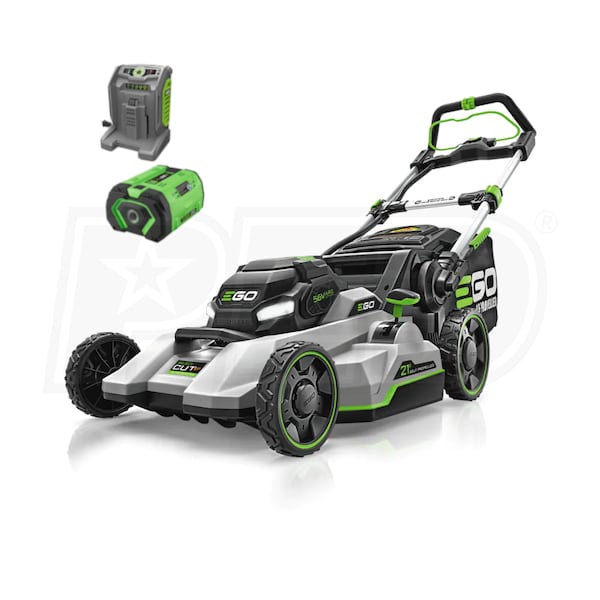 Features
High-Efficiency Brushless Motor
Reduces vibration, extends tool life and provides a longer run time
Get up and mowing with an easy push-button start
Select Cut™ XP Multi-Blade System
Contains two interchangeable lower blades that allow you to customize your cut
An extended runtime blade increases the quality of the cut and runtime
The high lift bagging blade provides additional suction for bagging
The standard mulching blade (comes with unit) works with either lower blade
21-Inch, 3-In-1 Ballistic Polymer Mowing Deck
Rear-discharge, bag, or mulch for a healthier, greener lawn
7-position cutting height adjustments (1.5" - 4")
Easy-access 2 bushel grass collection bag
Touch Drive™ Technology w/ Variable Speed Dial
Swiftly activate the self propel function with the touch of your palm
Take control of your speed with a scroll of the dial
Speed ranges from .9 - 3.1 MPH
ARC Lithium™ 56-Volt Battery & POWER+ Turbo Charger
75 minutes of run time on a single charge
The battery fully charges in 60 minutes with an EGO POWER+ turbo charger
ARC Lithium™ batteries are compatible with all EGO POWER+ tools and chargers
---
Best Cordless Push Mower
3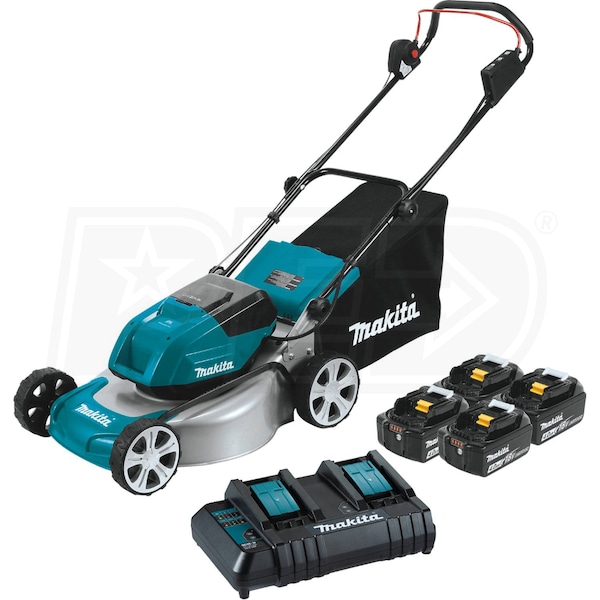 Features
Makita BL™ Brushless Motor
Runs cooler and more efficiently for longer life
Meets your gas-powered demands without the gas
Delivers up to 3,300 RPM for faster cutting
18V LXT® Lithium-Ion Batteries
Fastest charge times in their category; 40 minutes
Can cut over 1/3 acre in 43 minutes or less with four 18V LXT® batteries
Includes four batteries with a dual port rapid charger
LED battery indicators display charge levels
18-Inch, 3-in-1 Commercial Grade Steel Mowing Deck
Rear-discharge, bag, or mulch for a healthier, greener lawn
Single hand-lever operated height-of-cut adjustment (0.81" - 3")
Large 1.7-bushel bagger for fewer trips to the dump pile
Star Protection Computer Controls™
Exchanges real time data between battery and mower
Protects against overheating, over-discharging, and overloading
Extreme Protection Technology (XPT™)
Protective internal seal repels dust and water from key components
Designed for use in some of the harshest climates
---
Best Reel Mower
4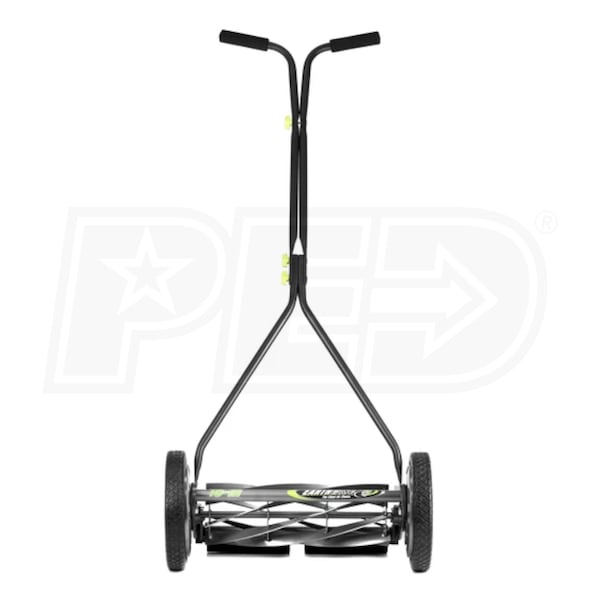 Expert Review
The Great States 1715-16EW is a great and affordable mower if you're looking for an environmentally friendly, easy, and reliable reel mower. It is specifically designed to cut low growing, creeping grasses. With a 7 blade and 16" cutting path, it is perfect for snipping grass for a clean, precise cut. Simply adjust the cutting height to your liking (1/2" to 2-1/2") and maneuver across your lawn with 10" composite wheels with radial thread designed for thicker grasses. This mower requires minimal maintenance and is always ready when you are; meaning no gas, no fumes, or noise. So go on and reel away!
Features
An Environmentally Friendly Alternative To Gas-Powered Mowers
No gas, oil, fumes or noise
Specifically Designed To Cut Low-Growing Creeping Grasses
Ideal for St. Augustine, zoysia, Buffalo grass and Kentucky bluegrass
Also cuts bent and bermuda type grasses
7 Blade, 4 Spider Ball Bearing Reel
16-inch cutting width
Heat treated alloy steel blades and cutter bar
Unbreakable steel side plate
Easy Cutting Height Adjustment
Cutting height options from 1/2" to 2-1/2"
Adjustable 7-section roller
10-Inch Composite Wheels With Radial Tread
Easily roll and turn in tall or thick grass
2-3/4" molded hub caps
---
Best Walk-Behind Rough Cut Mower
5
Features
344cc Briggs & Stratton Engine
OHV design for increased efficiency and optimal power transfer
Cuts brush up to 6 feet tall; saplings up to 2 inches in diameter
Heavy-Duty Mechanical Transaxle
3 forward speeds plus powered reverse
No linkages to snag on brush
26-Inch Wide Fixed Deck
Delivers excellent stability in deep vegetation
Ideal for clearing meadows, fields or trails of dense brush and weeds
Heavy-Duty Blade Spindle
Reinforced on four sides to tackle any brush job
Higher tip speed for improved speed and cut quality
Combines transmission and differential into one sealed package
Cuts just under an acre of brush per hour
Intuitive Drive Controls & Handles with Padded Grips
Feather in forward & reverse directly from the handles - no shifting
Cut down brush, berries, bramble, vines, tall grass - even small trees
Angled rear discharge deck eliminates packing and wind rows
---
 View: All Walk-Behind Lawn Mowers
Was this article helpful?