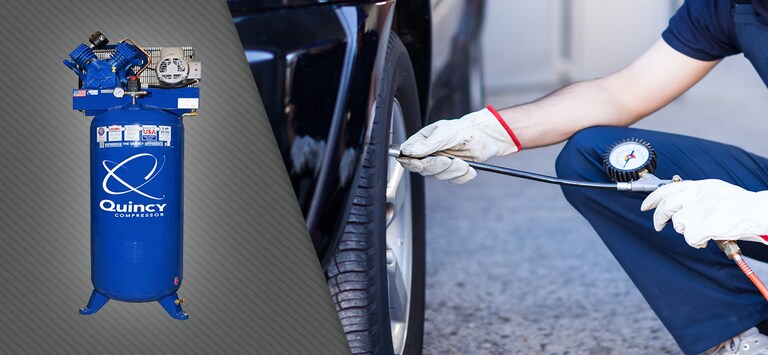 Best Two-Stage Air Compressors of 2023
Top-Rated & Best-Selling Two Stage Compressors
Two-stage air compressors provide that extra pressure you need for heavy-duty air tools and applications. Whether you own a body shop, run an industrial operation, or are simply a serious garage hobbyist, there's a two-stage compressor for you.
I've compiled this list of the best two-stage air compressors to help you find the right one for your needs. Click on each air compressor below to view the product page filled with more features, specs, reviews, and other great resources.
The Best Two-Stage Air Compressors
| Best Two-Stage Air Compressor | Best 20-40 Gallon Air Compressor | Best 60 Gallon Air Compressor | Best Duplex Air Compressor | Best Oil-Free Air Compressor | Best Air Compressor for Sandblasting |
| --- | --- | --- | --- | --- | --- |
| | | | Ingersoll Rand 2-2475E5V-460 | | |
---
How We Picked the Best Two-Stage Air Compressors
When recommending two-stage air compressors, we take five features into account.
Power
We start with the amount of power the air compressor can produce. There are two main characteristics of air compressor power: Cubic Feet per Minute (CFM) and Pounds per Square Inch (PSI). CFM refers to how much air the air compressor can deliver per minute (the volume), while PSI measures the force of the air. These two characteristics work together in a crucial balance to satisfy the needs of your application.
For example, if you're using a tire inflator, airbrush, or dental tools, then having high pressure is more important than high volume. The opposite is true for paint sprayers, nail guns, and other tools where you need more volume. Many of our best air compressor categories are based on application, so you can be sure we're recommending the product with the best PSI or CFM—whichever is needed. Finally, both CFM and PSI are determined by the motor's horsepower, which is another aspect of power we consider, along with the voltage requirements.
Reliability
When you buy an air compressor, you want it to last for years to come. That's why reliability is so important when making our best picks. We start with the overall construction and design. What is it made of? Does it have protective features like air filters to keep out contaminants?
After that, we look at the operation. Is there built-in technology that reduces wear and tear? How does it handle vibration or moisture? Finally, what is its rated lifetime in hours? How many years can you expect this air compressor to last? By examining reliability and durability, we're making sure you don't have to buy a replacement every couple of years.
Efficiency
We measure efficiency by how well an air compressor can deliver your air needs with minimal downtime, and at the lowest cost to you as possible. Compressors that can do both very well rank highly because they perform almost continuously, don't slow down your performance and save you money.
One of the key measurements in this is an air compressor's duty cycle, which represents how long it can operate before needing to cool down or refill the air tank. The higher the duty cycle percentage, the longer it can operate continuously without issue. For example, an air compressor with a 50% duty cycle will run 50% of the time without needing a break.
Efficiency can take many forms in an air compressor, so we look at the whole unit to determine what features are in place to help bridge the gap between cost and performance. For a two-stage compressor, features like low RPM motors, aftercooling technology, a compact design, a high efficiency intercooler, and other physical features that improve compressor life and dependability may be considered in our final ratings.
Noise
Sound level is an increasingly important factor, especially in traditionally loud piston air compressors. That's why we reward quieter air compressors with a higher ranking. The best piston air compressors today are barely louder than the average human conversation.
When you need a compressor running in a workshop, the garage, a tire shop, or on the factory floor, there are certain safety standards that must be met to prevent hearing loss and other problems, like not being able to hear someone shouting. In short, we think you should be able to work on your projects safely and without worrying about going deaf!
It's important to point out that the measurement of loudness in decibels is not standardized across the industry, and different manufacturers may test the loudness of their compressors differently. To combat the discrepancies, we typically consider brands that pledge to test their loudness consistently through organizations like C.A.G.I. or publish their testing standards so we can fairly compare them with other compressors. Of course, the best and most accurate way to know is to listen to as many compressors as we can in person and make determinations on our own.
Overall Value
Taking all the above criteria into account, along with price, leads us to an overall value appraisal for each air compressor recommendation. We don't go by the "cheapest" air compressor alone because you're going to get what you pay for, and we prioritize performance and quality. The sweet spot of affordability and performance is what we're after.
---
Best Two Stage Air Compressor: EMAX ES07V080V1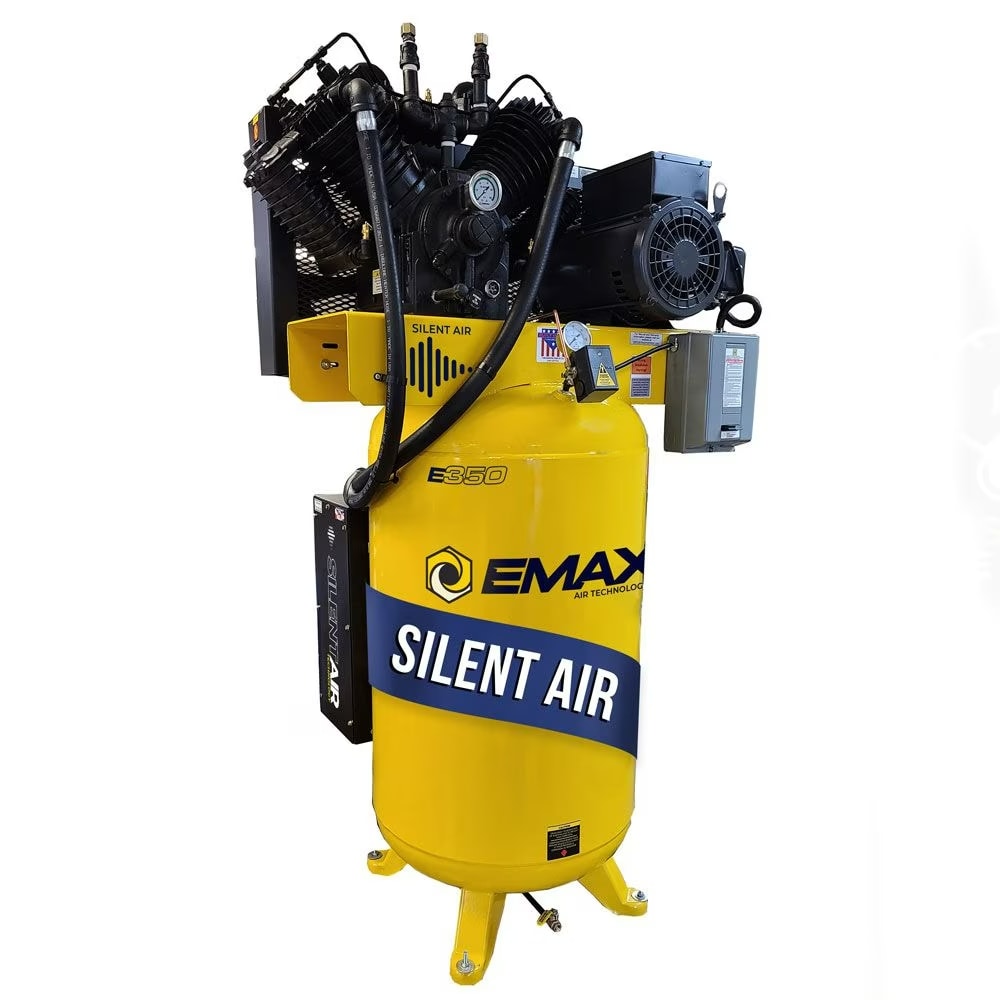 Topping our list is the EMAX ES07V080V1 two-stage stationary air compressor. This 7.5-horsepower, 80-gallon machine provides 31 CFM at 100 PSI and is exceptionally quiet. EMAX's patented silent air technology reduces decibel ratings by up to 35% compared to similar compressors by channeling intake air through baffle plates and pre-filter media. At the end of the day, it's about as loud as a vacuum cleaner.
Besides the noise level, I also like how reliably this unit is built. Its solid, cast-iron pump helps it withstand years of use. A low 1750 RPM motor runs quieter and cooler to reduce wear and maximize lifespan. There is also an aftercooler, which is a copper tube that helps decrease the temperature of the discharged air. Other features include a fully pressure-lubricated pump, magnetic starter, and a five-layer filtration system that blocks contaminants.
Overall, I highly recommend this unit for professional and commercial applications like auto repair, woodworking, agriculture, metal fabrication, and more. Worth noting is that EMAX offers a 5-year extended warranty option and a extended limited lifetime pump warranty on this compressor if you follow some simple maintenance steps outlined in their documentation. Although the upfront cost isn't low, you will get your money's worth for years to come.
Spec
Details
Rating

Power

31 CFM @ 100 PSI; 175 PSI maximum;




7.5-HP 208-230V AC Motor

Reliability

Solid cast-iron pump; Magnetic starter safely starts large loads; Pressure lubricated pump boosts longevity

Efficiency

Low 1750 RPM motor runs cooler & lasts longer; 80-gallon air tank; Aftercooler optimizes air output

Noise

Patented Silent Air technology cuts decibels by 35%

Overall Value

Great, robust unit that'll handle many large applications
Who It's For:
Garage Hobbyists
Body Shop Owners
Professionals
Commercial/Industrial Users
Who It's Not For: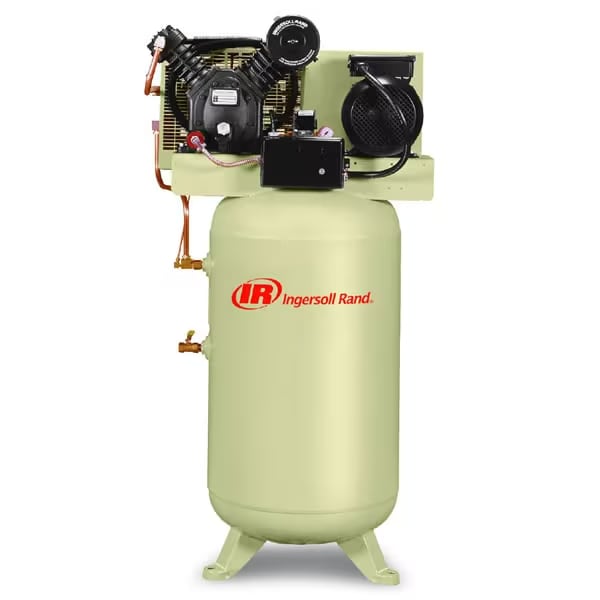 The Ingersoll Rand 2475N7.5-P is an excellent runner-up for heavy shop or industrial use. This 7.5-horsepower compressor is rated for 24 CFM at 175 PSI and includes an aftercooler, low oil shut-off to the pump, and an electronic drain valve to boost longevity. Plus, Ingersoll Rand offers an attractive extended warranty when you purchase the compressor with a maintenance kit.
---
Best 20-40 Gallon Air Compressor: Puma TE-5040V
If you regularly work on light commercial projects or need to power pneumatic tools for drilling, painting, framing, etc., the Puma TE-5040V is a great little unit. It's still a stationary two-stage air compressor, but it doesn't take up any unnecessary space. It's powered by a 208-230-volt, 5-horsepower induction motor. Able to provide 14 CFM at 90 PSI and containing a 40-gallon vertical tank, the TE-5040V is perfect for non-intensive use.
The Puma's cast-iron pump design improves durability, and its low 985 RPM pump increases efficiency and minimizes wear. It's also oil-lubricated, which helps it run more quietly and reliably. The 40-gallon tank includes a ½-inch air outlet, ¼-inch drain ball valve and is rated to 200 PSI. Keep in mind that you'll need a 23-21-amp circuit to run this compressor.
Overall, this is a sturdy, compact air compressor with enough power to handle your light-duty tools and equipment. I recommend it to anyone who needs a basic, reliable compressor for their shop without breaking the bank.
Specs
Details
Rating

Power

14 CFM @ 90 PSI; 175 PSI maximum;




5-HP 208-230V AC Motor

Reliability

Solid cast-iron pump; Oil lubrication

Efficiency

40-gallon tank; Small footprint saves space

Noise

Estimated 80 - 90s dBA

Overall Value

Good, compact compressor for lighter commercial projects at a decent price
Who It's For:
Garage Hobbyists
Professionals
Light Commercial Users
Who It's Not For: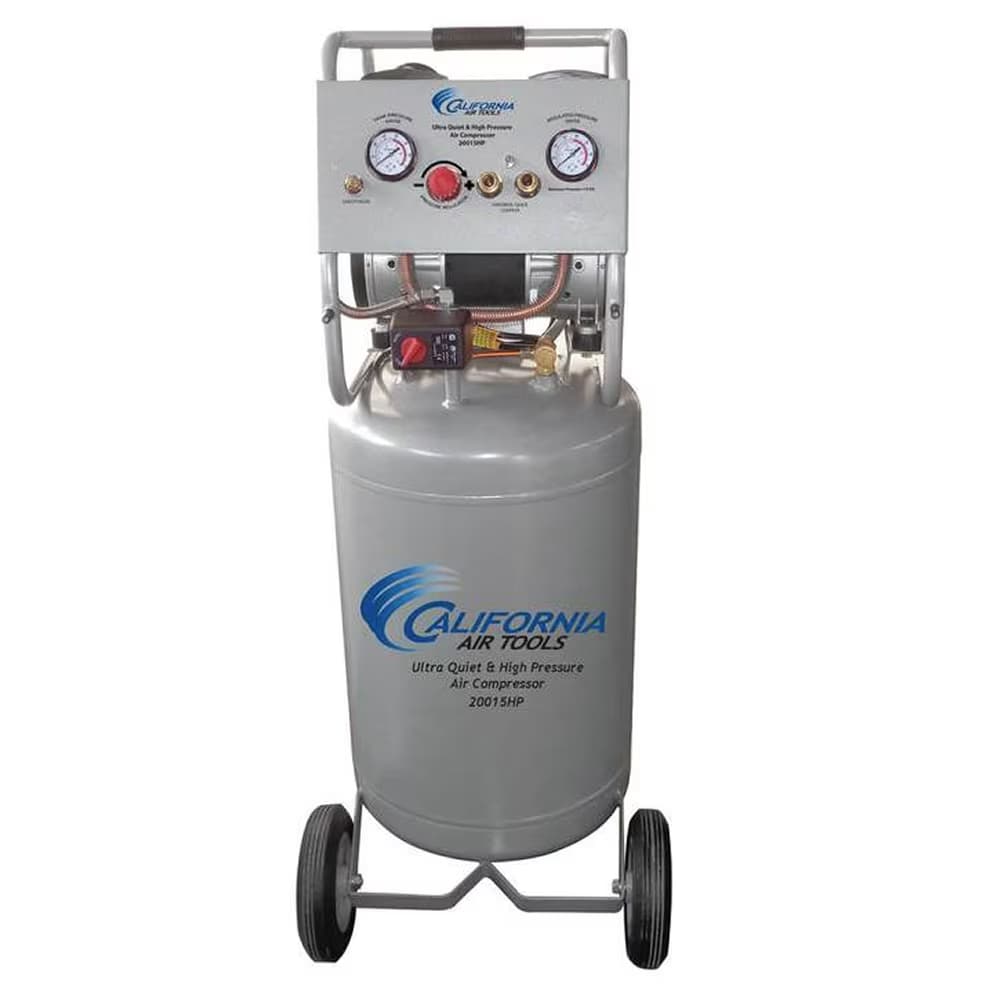 You won't be disappointed with the ultra-quiet California Air Tools 20015HP compressor, which offers 3.8 CFM at 90 PSI. This compact, 20-gallon unit is only 70 decibels, or around the volume of a normal conversation. Its oil-free motor carefully handles sensitive applications, while its low 1750 RPM performance boosts longevity. In fact, its life cycle is more than 3,000 hours. Finally, it's portable with wheels for easy moving around the job site, shop, or garage.
---
For heavier-duty professional and commercial needs, the 5-horsepower, 60-gallon Quincy 2V41C60VC is the toughest two-stage air compressor I've seen.
It outperforms similar units on duty cycle, CFM, and recovery times. Get 15.2 CFM of airflow at 175 PSI for all your professional needs. From impact wrenches and grinders to air hammers and paint sprayers, the Quincy powers it all.
The rugged design components include a cast-iron flywheel and cylinders, an industrial motor, an aluminum head, a two-piece connecting rod, stainless-steel reed valves, a four-ring piston, industrial-class bearings on both ends of the crankshaft, and graphite gaskets. Plus, polyester air filters weed out 10 – 50 times more contaminants than standard paper or foam filters. All of these components combine to boost durability, efficiency, and lifetime. In fact, you'll get a whopping 50,000+ hours out of the pump.
Although you'll spend more money upfront on this Quincy unit, you'll be paying for a reliable, well-manufactured product that could be the last air compressor you ever need to buy. You can also get an extended warranty on the pump from one to three years just by purchasing a maintenance kit with the unit. To me, that's money well spent.
Specs
Details
Rating

Power

15.2 CFM @ 175 PSI; 175 PSI maximum;




5-HP 230V AC motor

Reliability

Cast-iron cylinders & flywheel; Aluminum head; Heavy-duty industrial motor; Stainless-steel reed valves; Graphite gaskets; Polyester air filters; Industrial-class bearings; Four-ring piston; 50,000+ hour pump life

Efficiency

Low RPM; High-efficiency finned tube intercooler; 60-gallon tank

Noise

Estimated 80 - 90s dBA

Overall Value

Durability, durability, durability. This could be the last air compressor you need to buy!
Who It's For:
Home Shopowners
Weekend Warriors
Professionals
Small Business Owners
Who It's Not For: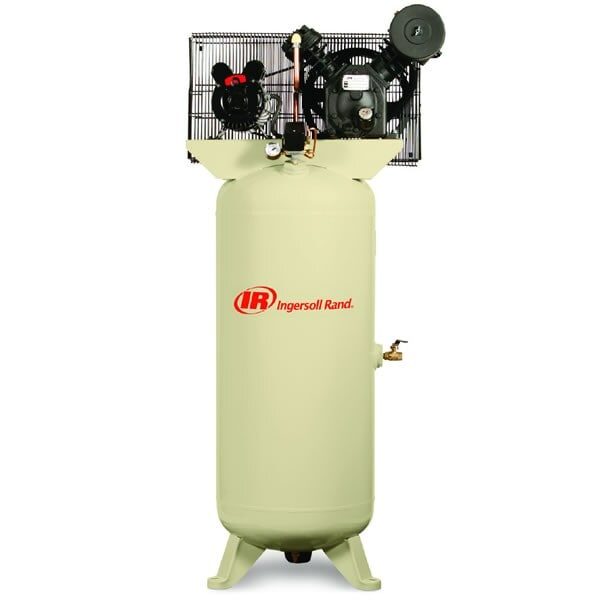 The Ingersoll Rand 2340L5.230-1 air compressor offers high performance operation for heavy commercial and industrial applications. With an output of 14 CFM at 175 PSI, this unit is ready for the job. A high-efficiency intercooler lowers the compressed air temperature and reduces condensation to improve performance and longevity. Don't forget to get an attractive extended warranty when you purchase the compressor with a maintenance kit.
---

Two is always better than one. That's why I absolutely love the Ingersoll Rand 2-2475E5V-460 duplex air compressor. It's called a duplex because it has two air compressors working together for more efficiency, consistent power, and redundancy. If one compressor goes offline or needs maintenance, the other will pick up the slack. Furthermore, by sharing the load, the two compressors experience less wear and last longer.
Both are designed for continuous duty and include cast-iron construction for enhanced durability. Individually cast cylinders, an overhung crankshaft, and a one-piece connecting rod streamline maintenance while improving efficiency. The unit can provide 34.2 CFM at 175 PSI and a maximum of 175 PSI. Two 5-horsepower, 3-phase motors power the compressor, and a magnetic starter comes included for safe, stable starting.
Overall, this compressor is one of the most dependable on the market. I can't emphasize the duplex aspect enough. It's perfect for heavy commercial applications where you can't afford any downtime, like manufacturing, energy production, food processing, and more. Yes, there is a substantial initial investment, but at this level, you know it's worth paying for something that will last years. To sweeten the deal, Ingersoll Rand offers extended warranty options if you follow certain maintenance requirements.
Specs
Details
Rating

Power

34.2 CFM @ 175 PSI; 175 PSI maximum;




Two 5-HP 3-Phase Motors

Reliability

Two individual motors back each other up; Individually cast cylinders; Overhung crankshaft; One-piece connecting rod; Magnetic starter

Efficiency

Continuous-duty operation; Alternating motors; 120-gallon tank

Noise

Estimated 80 - 90s dBA

Overall Value

Amazing investment that'll provide your business with efficiency, redundancy, and long equipment life
Who It's For:
Heavy Commercial Users
Manufacturers
Professionals
Who It's Not For:
Garage Hobbyists
Homeowners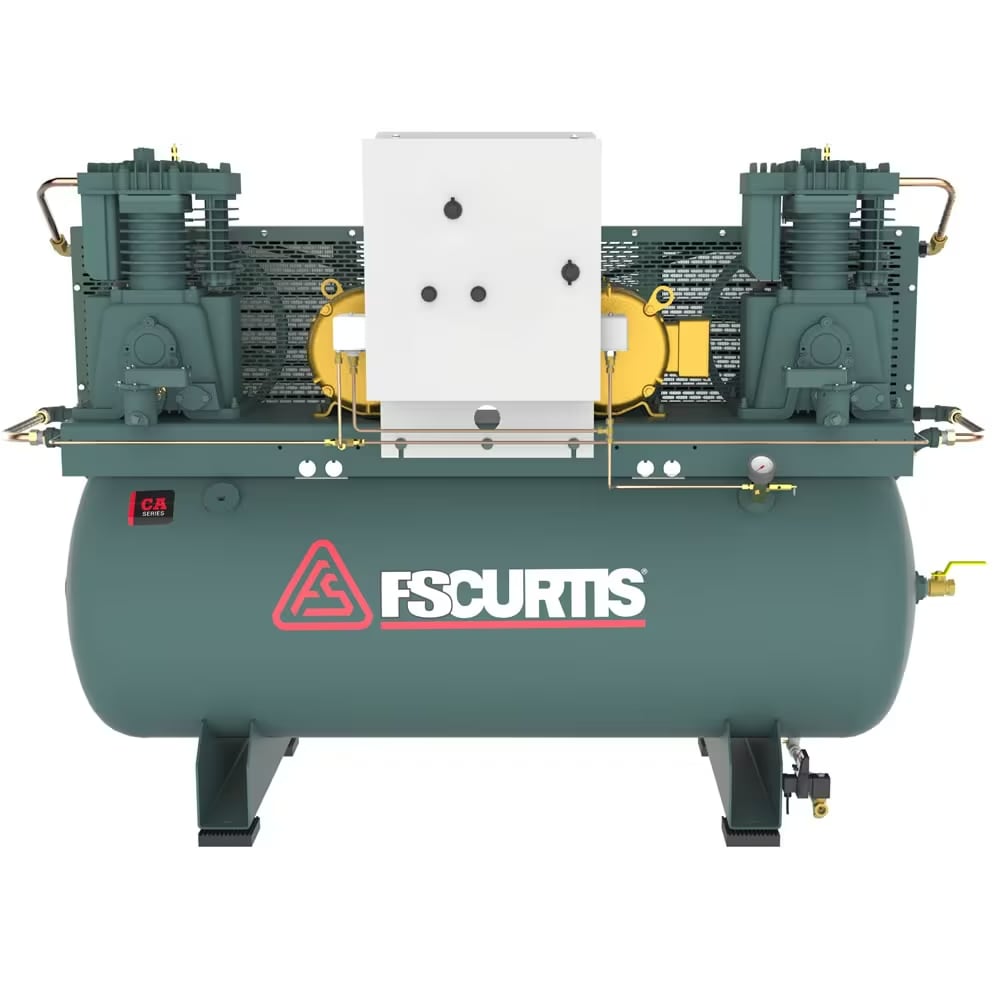 Built for power and reliability, this three-phase FS-Curtis duplex air compressor will handle heavy industrial and commercial needs. Armed with two 7.5-horsepower pumps, it can produce 46.4 CFM at 175 PSI. it also includes a magnetic motor starter, an aftercooler, electric drain valve, and a low-oil shutoff, all of which maximize performance, efficiency, and longevity. Plus, you can extend the warranty to five years by using the FS Curtis maintenance kit and registering.
---
Specific applications demand nothing less than the purest compressed air. If you need an air compressor for healthcare, food processing, painting, or other sensitive uses, you must go oil-free. The Schulz 932.7540.0 two-stage, oil-free air compressor is the perfect solution.* This 5-horsepower, 60-gallon compressor provides 20 CFM at 90 PSI and uses a 230-volt AC motor.
Since it's oil-free, there's zero chance of oil contaminating the compressed air. Lack of oil also makes this compressor able to operate in various temperatures. The cast-iron pump has a low 1,050 RPM, which allows it to run cooler and last longer. Deep cylinder fins provide additional heat dissipation. Durable Swedish steel valves resist corrosion and increase toughness. Another neat feature is the tank's internal antibacterial powder coating, which preserves cleanliness. An intake air filter further purifies the air. Finally, an epoxy coat helps prevent pump and tank corrosion.
It should be clear now that this compressor is designed to provide the purest compressed air possible. If air quality doesn't matter to you, don't get this compressor. If air quality means everything, don't get anything else.
*The Schulz 932.7540.0 is not intended for use with breathing equipment.
Specs
Details
Rating

Power

20 CFM @ 90 PSI; 120 PSI maximum;




5-HP 230V AC motor

Reliability

Cast-iron pump; Swedish steel valves; Oil-free operation maintains air quality; Intake air filter; Epoxy-coated construction

Efficiency

Low 1,050 RPM pump; 60-gallon tank

Noise

89 dBA

Overall Value

Can't beat it for medical and other quality-sensitive uses
Who It's For:
Medical Practitioners (Doctors, Dentists, etc.)
Professional Painters/Finishers
Food Processors
Any Users Dependent on Clean Air
Who It's Not For:
Users Who Don't Need Clean, Compressed Air
General homeowners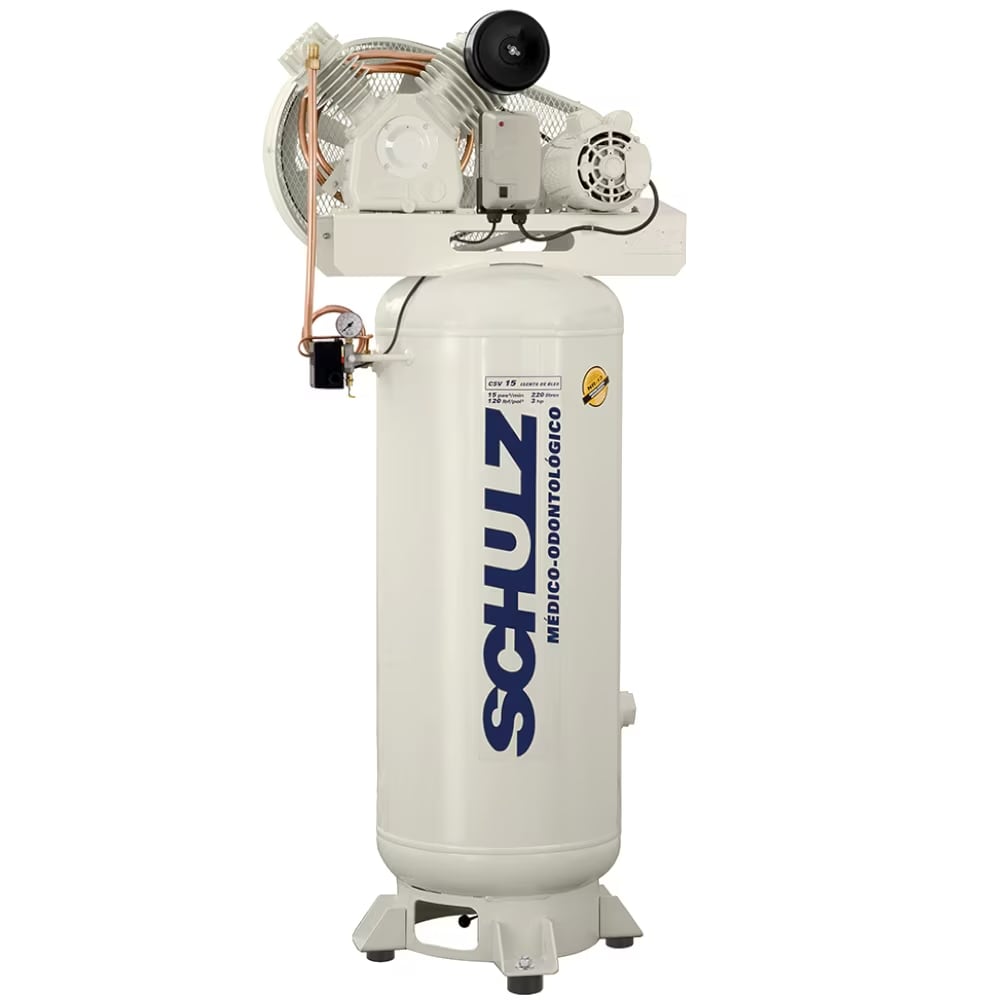 Whether you need compressed air for a dental office, medical lab, brewery, or other application demanding cleanliness, this 3-horsepower Schulz vertical stationary unit is a great runner-up. It provides 15 CFM at 40 PSI and has a 60-gallon tank. Its oil-free motor and intake air filter ensure that outgoing air is clean and safe for quality-sensitive uses. Cast-iron construction, Swedish Steel valves, and an epoxy coat ensure durability and longevity.
---
Sandblasters require a hefty dose of power to work effectively. You'll get it with the DeWalt DXCMV5048055 5-horsepower, 80-gallon air compressor. Mustering 17.9 CFM at 100 PSI and a maximum PSI of 175, this compressor provides the airflow and pressure you need for the toughest sandblasting jobs.
It's also built to last. Cast-iron pump and flywheel construction prepares this compressor for the trenches. The flywheel features large fins for lower RPM, which improves cooling and extends pump life. An integrated control panel includes a large tank and output pressure gauges for easy reading. You'll also get easy access to a pressure regulator and two quick-connect air outlets for your tools. The 230-volt AC motor includes thermal overload protection from voltage fluctuations, eliminating the need for a separate magnetic starter.
Overall, this DeWalt is a perfect addition to body shops, cleaning and restoration businesses, and other applications using a sandblaster. It'll run as needed, off and on, for five days a week. Plus, you'll double the warranty by purchasing and using the maintenance kit. The initial investment is definitely worth making.
Specs
Details
Rating

Power

17.9 CFM @ 100 PSI; 175 PSI maximum;




5-HP, 230V AC motor

Reliability

Cast-iron pump & flywheel; Deep groove cooling fins; Thermal overload protection

Efficiency

Large fins provide low RPM; 80-gallon tank

Noise

Estimated 80 - 90s dBA

Overall Value

Good, powerful pump that's worth it for heavy tool applications
Who It's For:
Body Shop Owners
Restoration Professionals
Garage Hobbyists
Who It's Not For: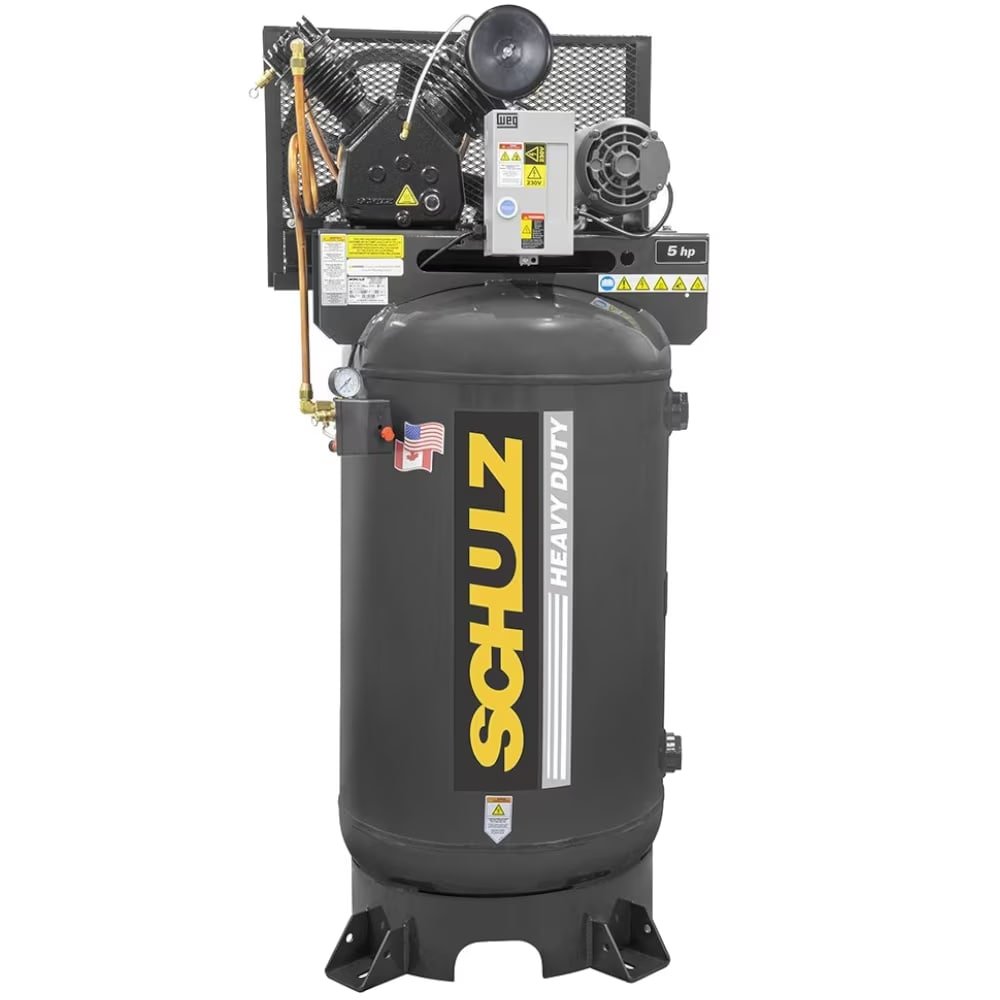 If you're a contractor needing an air compressor for sandblasting, another great option is the Schulz 932.9339-0. The 5-horsepower motor provides 20 CFM at 175 PSI, and the 80-gallon tank offers ample storage. It's also ruggedly built for the job site with a cast-iron pump, oversized main bearings, Swedish Steel valves, an enclosed belt guard, and powder-coated components that resist rust and corrosion.
---
Two Stage Air Compressor FAQs
How Do Air Compressors Work?
Any air compressor for home use, whether you're a Weekend Warrior or running a business out of your garage, will be a reciprocating type, which operates using pistons. An internal crankshaft drives the pistons inside the cylinders in a back-and-forth motion, creating a vacuum that sucks air in when it retracts. When the piston extends back up, it pushes air into a tank or output chamber and pressurizes it. At that point, the compressed air is ready for use.
What is the Difference Between a Single-Stage and Two-Stage Air Compressor?
A single-stage air compressor compresses air only one time while a two-stage air compressor compresses air twice to increase the amount of pressure.
In a two-stage compressor, air comes through the inlet and is compressed by a large piston. It then travels through an intercooler, a copper tubing that helps cool it down, into a second chamber where it is compressed again by a smaller piston. This double-pressurized air is then transferred to the storage tank or output. As a result, two-stage air compressors are better for heavier-duty, professional air applications.
What is CFM?
CFM stands for Cubic Feet per Minute and describes "how much" air is produced, or its volume. An air compressor rated for 15 CFM can produce 15 cubic feet of pressurized air per minute.
What is PSI?
PSI stands for Pounds per Square Inch and describes the pressure, or force, of air. An air compressor rated for 100 PSI can produce 100 pounds of air pressure per square inch.
How Does CFM Relate to PSI?
When reading air compressor specs, you'll find CFM ratings listed at a certain PSI rating, i.e. 15.5 CFM at 90 PSI. That means that, when the compressor is producing 15.5 CFM of airflow, it is doing so at a pressure of 90 PSI. If you increase the pressure in PSI, the air volume (CFM) will decrease and vice versa. Understanding this is important when sizing an air compressor for your tools and equipment.
What Size Air Compressor Do I Need?
When sizing a two-stage air compressor, start with what you'll be using it for and how often. Having to power a pneumatic nail gun every few months will require much less power and runtime than having an auto shop where you're using air tools all day, every day. This will help narrow down what type of stationary compressor you need (single-stage, two-stage, duplex, rotary, etc.).
Once you've established use and frequency, figure out how much air volume in CFM and air pressure in PSI you need. This should be specified in your air tool manuals. For example, if you'll be running at most three impact wrenches that each require 10 CFM, then you'll need a compressor that can handle 30 CFM to keep up. As always, you can contact us with any questions, and I'll be happy to assist with your sizing!
About Melissa
Melissa has been fascinated by air power since childhood when she would help her dad with hobbies using his old compressor. Years later, she would heavily use compressors herself when powering air tools for building theater set designs.
Her ability to fuse her fascination with air tools with her passion for theater exemplifies how compressors can play a role in almost any profession—from brewing to auto work and dentistry to heavy industry. After designing sets for eight years, Melissa worked as a flooring and window treatments manager for seven years before joining the Air Compressors Direct team.
Today, as the air compressor expert, Melissa sets the stage for customers' success with a whole range of air applications. When not at work, she uses air compressors herself on various home improvement projects. Besides this, she enjoys spending time with friends and family, including her cats, outdoor activities, painting, gaming, and watching musicals.
You can count on Melissa to pull back the curtain on air compressors and answer all your questions and concerns!
Was this article helpful?