Best Single-Stage Air Compressors of 2023
Top-Rated & Best-Selling Single Stage Compressors
Single-stage air compressors are great for many home garage applications, but how do you know which to choose? To help you, we've put together the Best Single-Stage Air Compressors based on our best-selling, highest-rated models with expert recommendations to ensure you get the perfect type for your needs. 
If you're not sure what kind of single-stage air compressor you need, check out our Single-Stage Air Compressor Buyer's Guide to get started and come back to the list for an expert recommendation. 
---
Best Single-Stage Air Compressors List

You can scroll through the full recommended list of single-stage air compressors below, or simply click on the one you want to see right away.;

Best 3-HP Single-Stage Air Compressors


Best 5-HP Single-Stage Air Compressors


Best 3-HP Single-Stage Air Compressors
1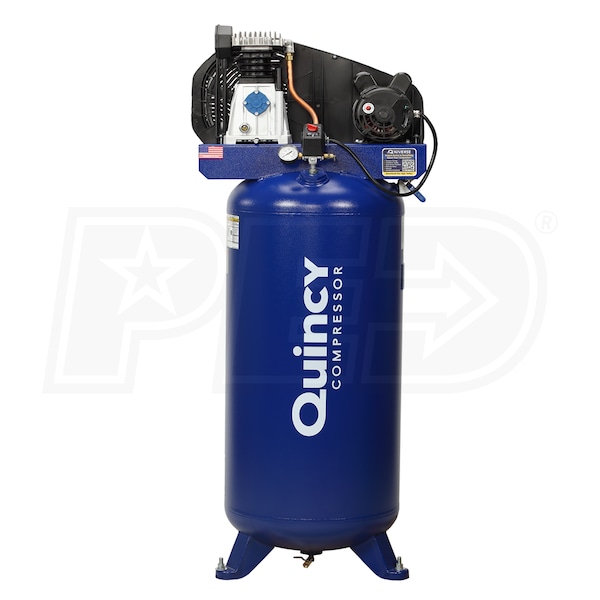 Expert Review
If you're looking for a reliable air compressor for your home workshop or small business, this unit from Quincy is a great place to start. It's the perfect compressor for do it yourself (DIY) projects around the home or garage and small commercial applications. This single stage compressor features a cast iron cylinder, crankshaft and valve plate for strength and durability. It has plenty of power to run a wide range of tools and is still proudly assembled in the USA. It's quite possible your Grandpa's air compressor was a Quincy; this unit is built to provide reliable service for years. Quincy tests each unit at 100% pressure before it leaves the factory, so you can be sure your air compressor will last & last.
Features
Perfect For Commercial Or Do It Yourself Applications
Strong & durable single stage compressor that last
Cast Iron Cylinder, Crankshaft, & Valve Plate
Valve plate design provides efficiency & maximum strength
Aluminum Head & Special Fin Design
Helps dissipate heat; keeps compressor running cool
100% factory tested at full pressure
Start-Stop Pressure Switch
Automatically starts the compressor when system pressure drops
Develops 14.6 CFM @ 40 PSI; 12.8 CFM @ 100 PSI
Plenty of power to run a wide range of air tools
Tackle airbrushing, drilling, sanding and bolting/wrenching
---
2
Expert Review
This unit is built to withstand the demands of continuous-duty use and was designed for maximum air power for commercial and weekend warrior use. The 3-HP single phase motor has thermal overload protection and manual reset for more protection. The cast iron cylinders and frame are built to be dependable and last a long time, even in high demand environments. It delivers more CFM that gives you the power to do the job right and in less time. This model also meets OHSA standards and is UL, CSA, and ASME. It's durable cast iron construction and precision-engineered quality components will deliver a superior performance for any job that's put to its test.
Features
High Quality Single-Stage Air Compressor
Fully tested, assembled and pre-wired delivery
Perfect for DIY projects to the professional air compressor user
100% Cast-Iron Cylinders & Frame
Long-lasting extended pump life
Delivers over 5,000 hours of trouble-free use
Maximum Power & Flexibility
Automatic start/stop pressure switch control
Designed for the toughest 100% continuous duty applications
Thermal Overload Protection & Enclosed Belt Guard
No magnetic starter needed and protects motor from damage
Provide constant protection for internal parts and end user
Oil Sight Gauge
Easily check compressors pump oil level
---
Best 5-HP Single-Stage Air Compressors
1
Expert Review
Ingersoll Rand has been building reliable air compressors for 100 years and this built in the USA unit is no exception. A 100% duty cycle meets the needs of both professionals and dedicated do-it-yourselfers. The cast iron cylinders and frame are precision engineered to Ingersoll Rand's exacting standards so your investment works for you year after year. The SS5L5 unit puts out 18.1 CFM at 90 PSI, so it will run a wide variety of pro-grade tools like air hammers and metal cutters. Don't forget to grab a start-up kit for this compressor. Since Ingersoll Rand piston compressors ship dry you will need their All-Select lubricant to get this up and running. With this add-on, Ingersoll will extend your pump warranty by an additional year.
Features
100% Cast-Iron Cylinders and Frame
Designed for the toughest 100% continuous duty applications
Manual Thermal Overload Protection
No magnetic starter needed and protects motor from damage
Oil Sight Gauge
Easily check compressors pump oil level
OSHA Compliant
Fully enclosed flywheel, belt and motor sheave
Fully Tested
All units are prewired and thoroughly tested prior to shipment
---
2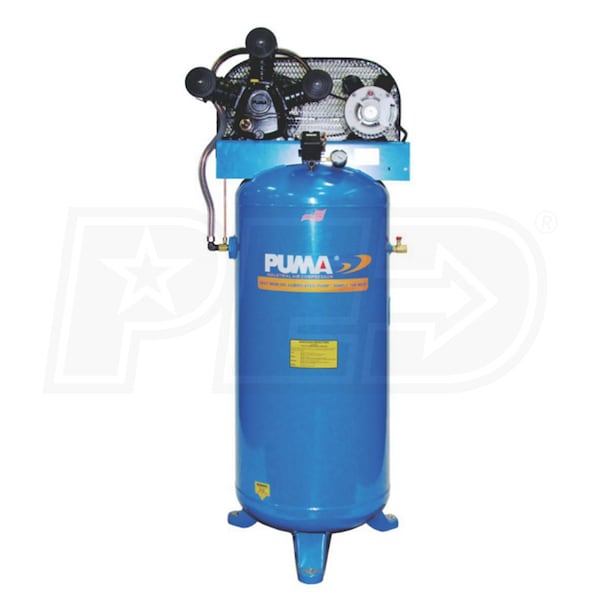 Expert Review
This Puma unit has a durable 3-cylinder cast iron pump so it provides a longer service life and low heat transfer between cylinders. You can drive large air tools or support multiple users for repair or fabrication work. The PK6560V compressor runs on 208/230 volt single phase power, so it's easy to work into your garage setup. A single phase induction motor with overload protection offers maximum protection. With a 15.5 CFM @ 90 PSI, this compressor is perfect for home and professional jobs.
Features
Cast-Iron 1180 RPM 3-Cylinder Pump
More durable & longer service life than aluminum pumps
Splash lubrication keeps pump running smoother & quieter
3450 RPM Capacitor-Start Motor
No need for a expensive magnetic starter
Comes equipped with overload protection
208-230V Single Phase
Requires at least a 23 amp circuit
Needs to be purchased by customer to meet local code
Belt Drive With Sturdy Guard Housing
Provides more power, easy to maintain
60 Gallon Vertical Tank
---
3
Expert Review
This reliable unit from the folks at Eagle features rugged cast iron cylinder sleeves and a "V" design to minimizes vibration, improve cooling, and extend the life of the compressor. The single phase, 208-230V motor supplies enough power for the small shop or serious hobbyist. This compressor was built to work hard and last a long time. The cast iron pump also was designed with removable cylinders for smoother operation and easy maintenance. A nice touch is the convenient oil drain on the front of the unit and an easily-viewed oil sight glass. An extended warranty to 2-years with the purchase of a maintenance kit at the time of purchase is offered to protect your investment even longer.
Features
Rugged Cast Iron Cylinders
Built to work hard and last a long time
"V" Design
Minimizes vibration, improves cooling, extends compressor life
Individual & Removable Cylinders
For smoother & cooler operation
Heavy Duty Pressure Switch
With convenient on/off control
No magnetic starter required
Metal Air Filters With "Auto Drop" Feature
Extends compressor life, easy to maintain
---
 View: All Single-Stage Air Compressors
Was this article helpful?