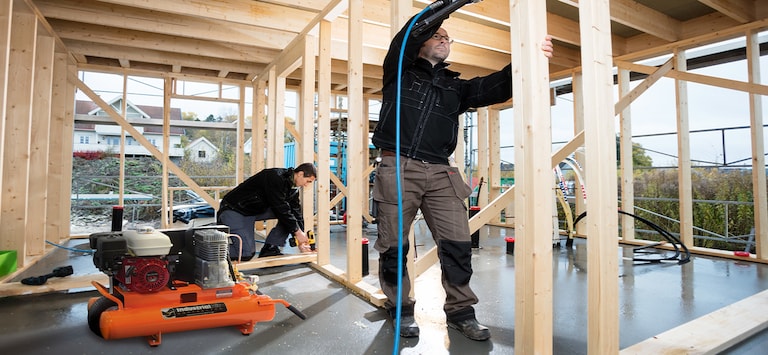 Portable Air Compressor Buyer's Guide
How to Pick the Perfect Portable Air Compressor
The best thing about a portable air compressor is that it can go wherever the job is.
Whether you want to mount a portable air compressor on your truck, wheel it around the job site, or carry it anywhere, there's a portable compressor that fits any job—and any user.
This guide will help you choose the right portable compressor: one you can take on the roof, under the deck, or the road with ease. We typically recommend customers to look for compressors that have enough CFM (Cubic Feet/Minute) and PSI (Pounds per Square Inch) to meet the demands of the job. These are two of the most important factors to consider when choosing a compressor.
1. Hand-Carry Air Compressors
Hand-carry air compressors are the smallest and easiest to move around. If your compressed air needs include inflating balls, mattresses and tires, hobby work and other light-duty applications, these are the compressors for you. They are available in a variety of sizes and are mostly electrically-powered, with some exceptions of those needing gasoline instead.
| Hand-Carry Compressors | Inflators | Pancake Compressors | Hot Dog Compressors | Twin-Stack Compressors |
| --- | --- | --- | --- | --- |
| | | | | |
| Uses | Emergency car tires, inflatables, bike tires | Entry-level; inflating car tires; not for air tools | Home DIY projects; can power most air tools | Professional carpentry/ contractor work |
| CFM | <1 CFM | 0-4 CFM | 0-5 CFM | 2-5 CFM |
| Max PSI | 60-230 PSI | 90-135 PSI | 110-225 PSI | 120-175 PSI |
| HP | N/A | 1-3 HP | 0.5 - 2 HP | 1-5 HP |
| Power Source | 12v / 120v | 115-120v | 110-120v | 110-230v Electric & Gas |

Air Inflators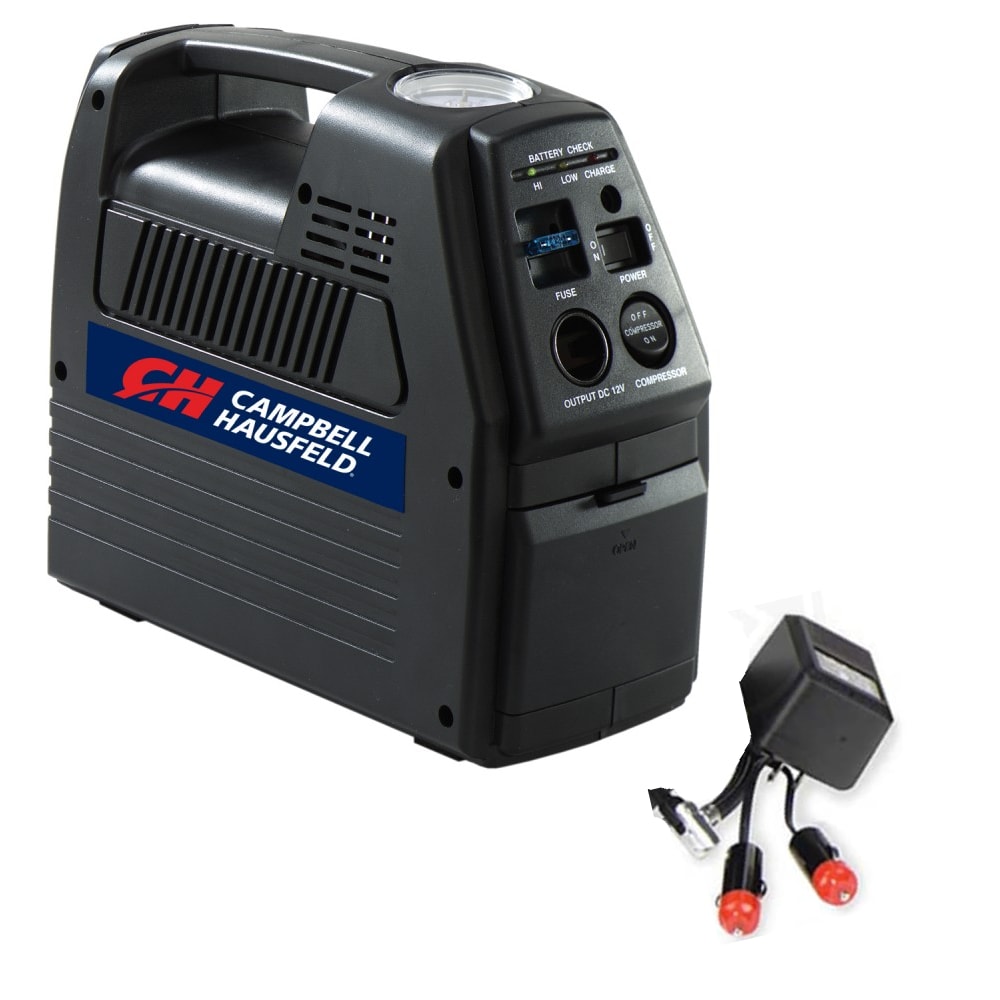 Mostly reserved for emergency use, high-quality inflators are extremely useful if kept in your car's trunk and come in 12-volt, 120-volt, and cordless battery power options. They are also the smallest consumer air compressors available.
When choosing an inflator, it's important to understand that they're not designed or meant to be used for tasks other than inflating pool toys, bike tires, or small vehicle tires—in other words, they can't power air tools or fill RV-size tires.
Pancake Air Compressors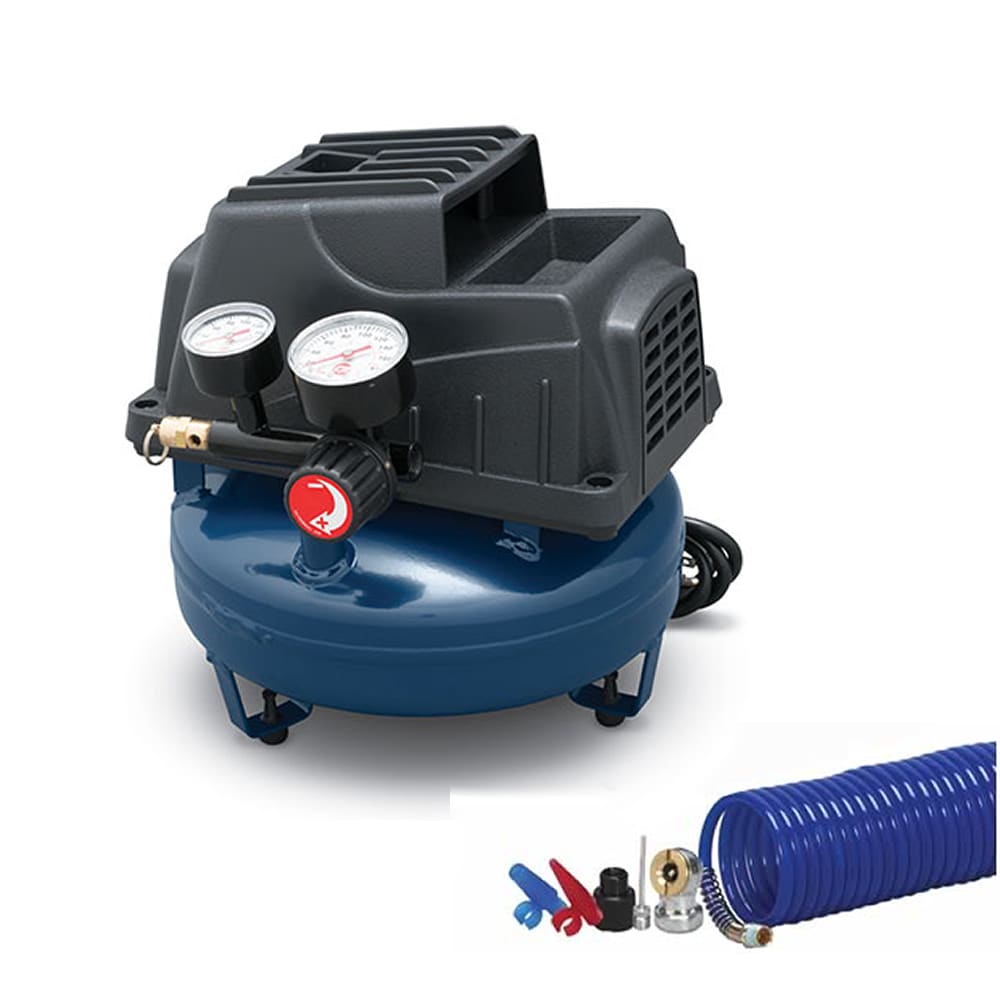 Pancake air compressors are portable, require minimal maintenance, and are easy to use. They are basic entry-level compressors that offer small tanks and used for small projects around the house.
Pancake compressors are small and portable, making them a simple tool you can pull out and use on a moment's notice. Most have regulators and gauges so you can monitor your PSI, too. Some lighter air tools can be used with pancake compressors, however, be aware you may need to wait for the tank to refill often, due to smaller air capacity.
Hot Dog Air Compressors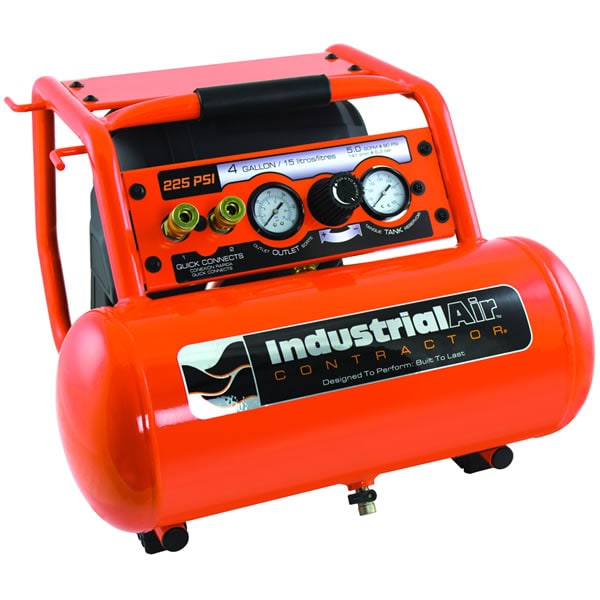 Hot dog air compressors get their name from the fact that their elongated tanks resemble a hot dog and usually come in 1-7 gallon tank sizes. The size of the tank determines how long an air tool can be used before the compressor kicks on, called its duty cycle.
Two features you should look for are a durable carrying handle and rubber feet to prevent scraping floors. Three-gallon (all-in-one) air compressors are great for small projects around the house and come with the most common attachments for small jobs. They are compact, lightweight, and extremely versatile machines.
You can use these compressors with most air tools, but if you plan on using heavy-duty professional pneumatic tools like a nail gun for a flooring project, you should consider the largest hot dog compressor tank available, or a twin-stack compressor (below).
Twin Stack Air Compressors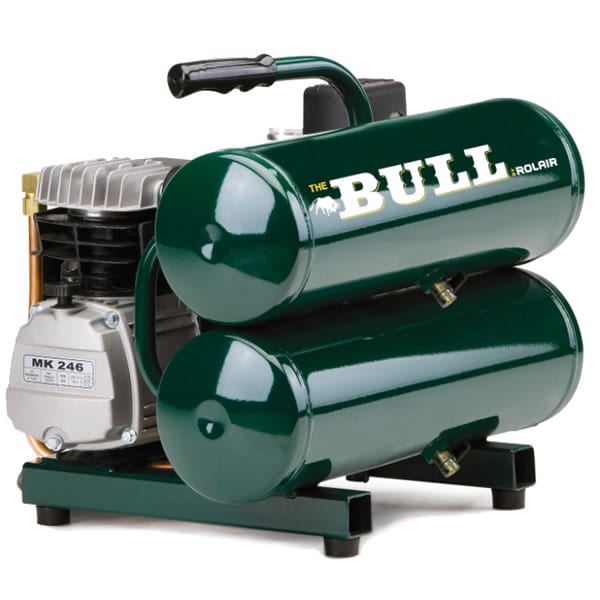 Twin Stack air compressors have two tanks, so you won't spend nearly as much time waiting for your tank to fill than the other types of hand-carry compressors. With the second tank, they can consistently power most air-tools with minimal down-time.
Most consumer-grade twin stack compressors are direct drive and they require much less maintenance than belt-drive compressors, with the added benefit of not worrying about oil changes and belt replacements on oil-free models.

Like most portable compressors, these compressors are offered as oil-lubricated or oil-free. Oil-free twin stack compressors will not need to be maintained. If you are using an oil-lubricated pump, make sure to check the oil—if there is no oil to lubricate an oiled-pump, the compressor will wear out sooner.
2. Wheeled Portable Air Compressors
Air compressors with wheels are often classified by either having vertical or horizontal tanks. Wheeled compressors are available as either electric or gasoline-powered.
Unlike hand-carry compressors, these units have wheels because they are much heavier, so they need to be pushed or pulled to wherever they are needed.
| Wheeled Compressors | Vertical Compressors | Horizontal Compressors | Wheelbarrow Compressors |
| --- | --- | --- | --- |
| | | | |
| Users | Consumers and hobbyists | Prosumers | Contractors |
| CFM | 3-7 CFM | 2-19 CFM | 5-18 HP |
| Max PSI | 115-225 PSI | 100-170 PSI | 125-175 PSI |
| HP | 1-2 HP | 1-9 HP | 1-9 HP |
| Power Source | Electric Only | Electric or Gas | Electric or Gas |

Portable Vertical Tank Air Compressors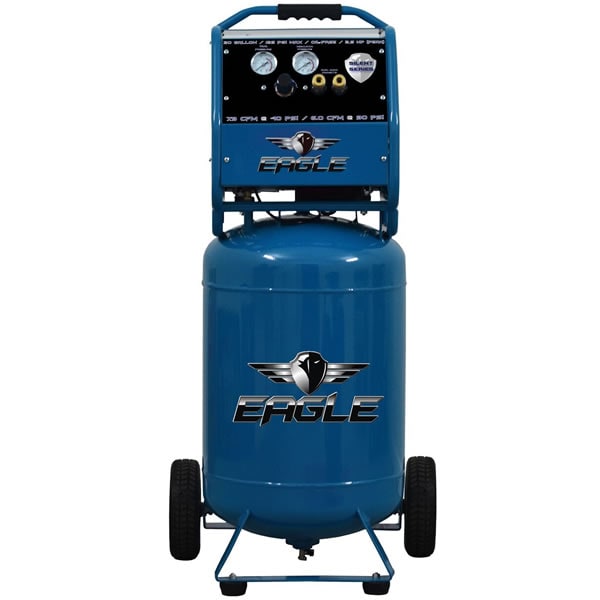 Portable vertical tank compressors are essentially the same as horizontal units below, just with a different tank orientation and are electrically powered. If you're debating between the two, your storage space should dictate which style you purchase.

If you're re-siding a home, building a deck or framing an addition, a major benefit of the vertical orientation is eliminating the need to bend over to use the compressor.

A major difference between the horizontal and vertical air compressors is there are no gas-powered vertical models. If you need to work away from electricity and need a lot of CFM or PSI, horizontal portable compressors will likely be your best option.
Portable Horizontal Tank Air Compressors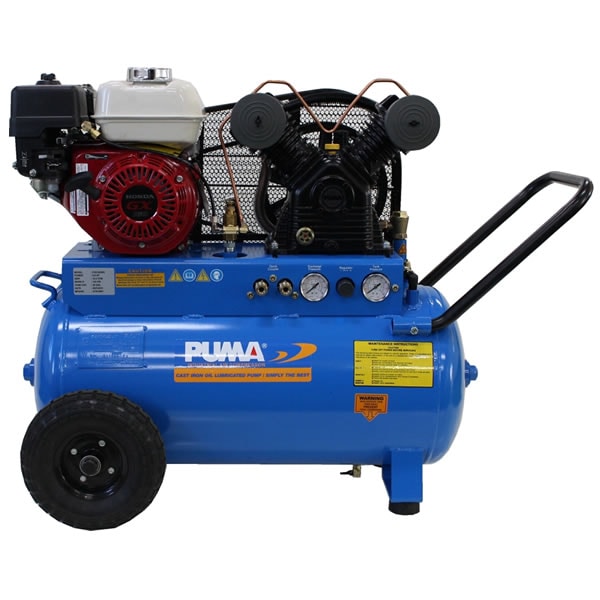 Portable horizontal compressors are popular because they have more power than hand-carry units. In most cases, they are very similar, just with larger tanks and more costly components.

These single stage compressors are popular with carpenters because with large tanks they don't need to run constantly to refill.

Horizontal compressors are available as electric or gas-powered too, so you'll need to decide ahead of time where you'll be using your compressor, and how much CFM you need.
Wheelbarrow Air Compressors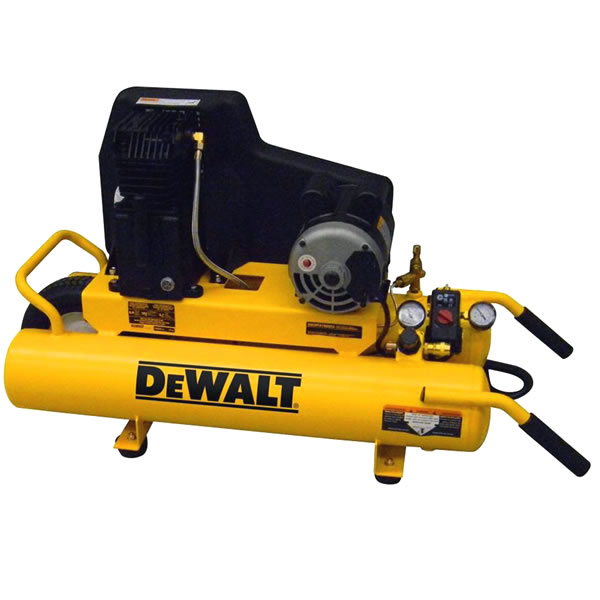 When you need durability and mobility, choosing a Wheelbarrow air compressor might be exactly what you need. With single or double wheels and sturdy handles, you can pull wheelbarrow compressors weighing upwards of 300 lbs through tough, uneven terrain.

Think of horizontal portable compressors and wheelbarrow compressors like the difference between consumer and professional-grade equipment; they are designed for professional tradesmen on the job-site and are built with larger air tanks and heavy-duty materials, so they can handle challenging conditions and withstand the normal rigors of a job-site.
A few notable options are to choose between gas-powered or electric-powered, single or two-stage motors and single and two-wheeled models. Some compressors even offer dual-air outlets to power two air tools simultaneously.
3. Mobile Air Compressors
Mobile air compressors are as portable as the vehicle they're attached to. Truck-mount, tow-behind, and DC compressors make up this category, each having very unique applications and uses.

Truck-mount compressors can be found mounted on road-side service vehicles, and tow-behind compressors are often towed with construction trucks. DC compressors are designed to inflate punctured tires and power air tools on the go, making them perfect for off-roading in Jeeps and UTVs, or vehicles that use air-ride suspension.
| Mobile Compressors | DC Compressors | Truck-Mount Compressors | Tow-Behind Compressors |
| --- | --- | --- | --- |
| | | | |
| Uses | Off-roading, air-ride suspension, semi-trucks, agricultural equipment | Mobile contractor, farmer, and construction applications | Industrial construction applications |
| CFM | 0-8 CFM | 13-90 CFM | 90-370 CFM |
| Max PSI | 100-200 PSI | 120-200 PSI | 123-150 PSI |
| HP | 0.25-2 HP | 8-25 HP | 24-128 HP |
| Power Source | 12-24-Volt | Gas Only | Gas Only |

DC Air Compressors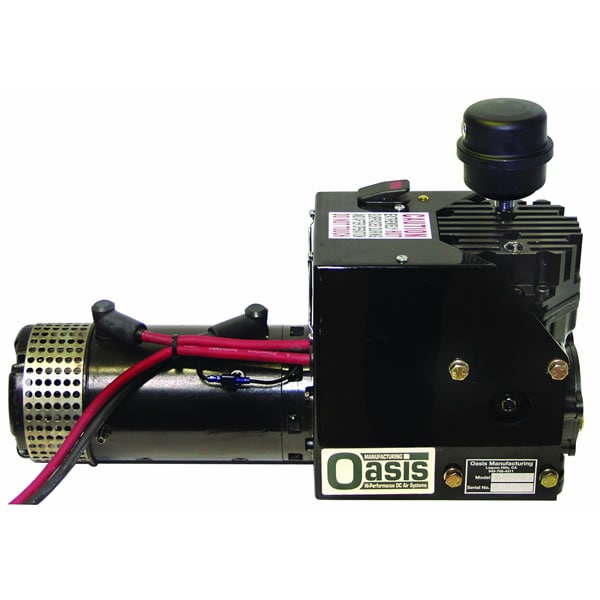 DC (direct current) air compressors open up new possibilities that gasoline or electrically-powered compressors can't offer by running on battery power instead. These types of compressors don't normally have air storage tanks, meaning they run constantly, and many models boast a 100% duty cycle rating (always running).
Because they are battery-powered with either 12-volt or 24-volt currents, you can use them virtually anywhere, even giving you options to permanently mount them on your jeep, ATV, semi-truck, or agricultural equipment. You'll even find these compressors being used for air-ride suspension applications on vehicles.
With a DC compressor, you can go off-roading with ease, knowing you don't need to rely on plug-in power to prevent your tires from going (too) flat on you up in the mountains. Also, on rocky tracks, you won't have to worry about spilling gasoline or losing the gas tank, either.
Truck-Mount Air Compressors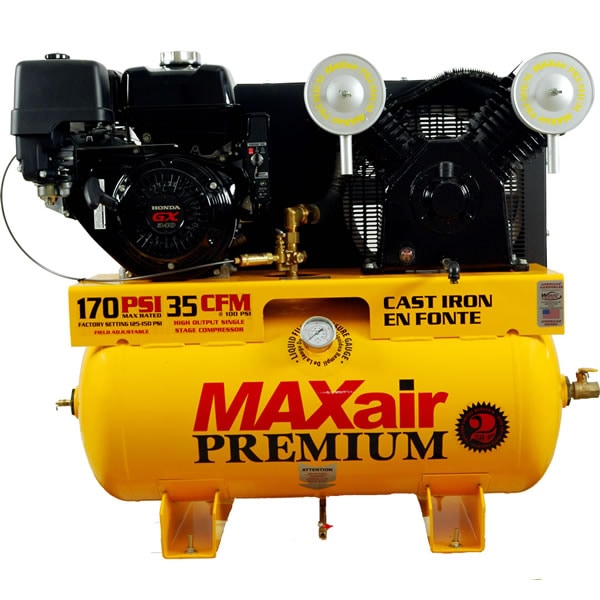 Truck-mounted air compressors deliver heavy power from an even heavier compressor, supplying CFM and PSI levels of a two-stage compressor. As such, these compressors need to be transported in the bed of a work truck. You'll get the power of a stationary compressor with the convenience of portability.
For the professional contractor or hard-working farmer, these compressors offer amazing value on job sites or more remote places. Just remember to bring extra gasoline, because they are gas-only, and can't be powered by electricity.
Tow-Behind Air Compressors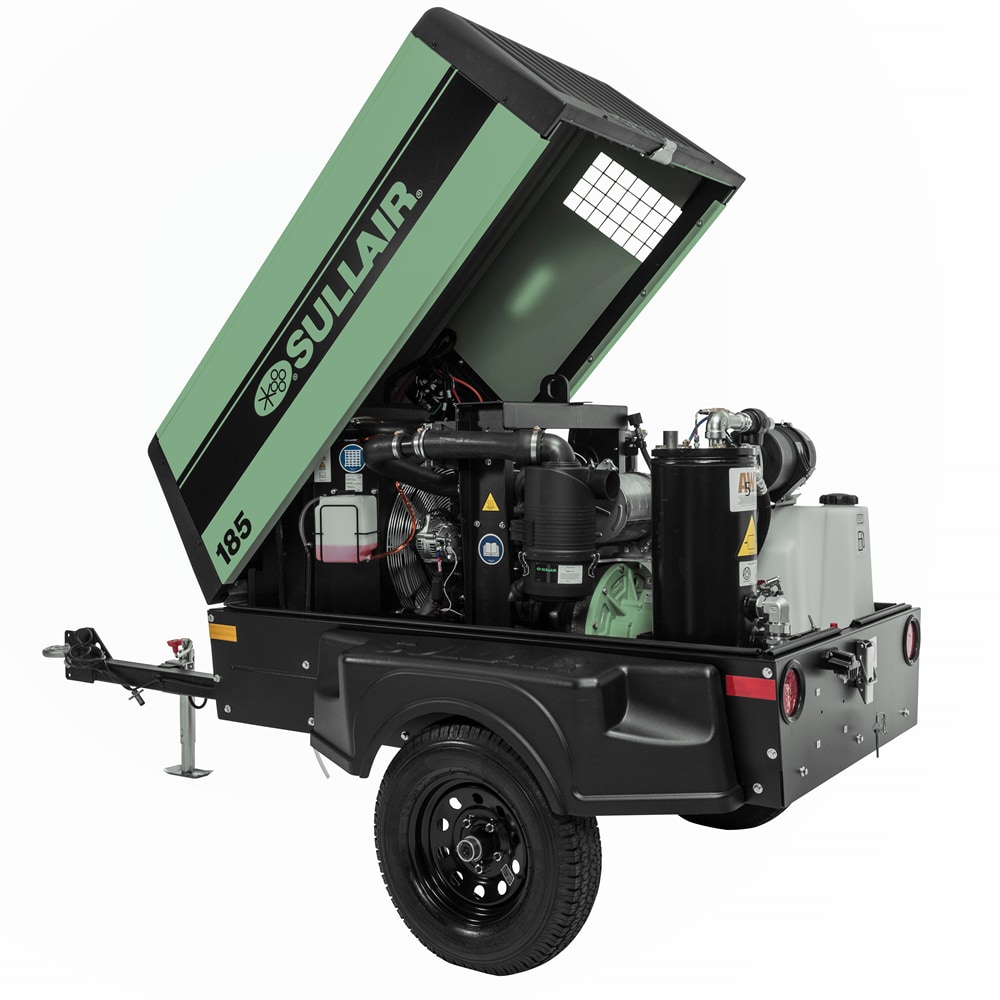 Tow-behind air compressors are behemoths of compressed air power. Up to 120 HP and over 375 CFM, these 2-stage rotary-screw compressors rival industrial stationary compressors, without having to bring the whole facility with you.
Too powerful and large to fit into the standard truck bed, most require a hitch and a sturdy set of wheels to transport them to the job site. However, some will fit into the beds of larger tractor-trailers, and can even be purchased without the trailer (skid-mounted). Either way, with a compressor like this, sandblasting, graffiti removal, pavement breaking, post-pounding, and more have never been so simple.
As a result of their size and horsepower, they can deliver as much consistent power as a 2-stage stationary compressor with the benefit of being out in the field. These professional compressors also come with options for extended warranties, cold-weather protection kits, and are highway tow-able (up to 55 mph).
The Best Portable Air Compressors
We know it can be difficult to choose the right type of portable air compressor, and so we've created tools to help make the decision simple. What better way to discover the best portable air compressors than by hearing what our customers actually think?
Click the link below to view the best portable air compressors of the year, as voted by our air compressor experts and customers who have purchased, used, and reviewed their own compressors. Or, if you need more help, give us a call.

NEXT: The Best Portable Air Compressors
Air Compressor Buyer's Guide Navigation
Ultimate Compressor Guide | Air Compressors 101 | For Homeowners | For Contractors | Stationary Compressors | Portable Compressors | Quiet Compressors | Energy Efficiency | Air Treatment Systems | Air Filters 101 | Air Tools 101 |
Was this article helpful?