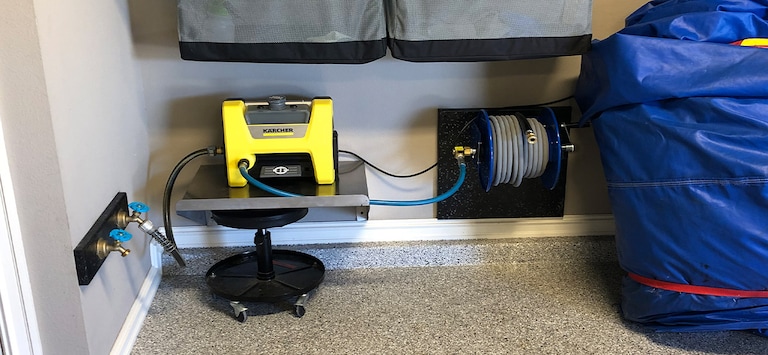 Wall Mount Pressure Washer Buyer's Guide
How to Pick the Perfect Wall Mount Power Washer
If you need to clean the same area repeatedly, why bother with a portable pressure washer? That's what wall mount power washers are here for. Commonly found in car washes and meatpacking facilities, these pressure washers are hard-wired into the electric supply of a building.
There's no pulling it out of storage and setting it up - just turn it on and go. Be sure to match the wall mounted pressure washer to the electrical supply you have, mount it, and enjoy pressurized water on demand.
Electrical Considerations

You'll need to choose a wall mount pressure washer that's compatible with the existing electricity where it will be installed. Some of these units require a three-phase electrical supply, which is usually reserved for commercial buildings.
If your building doesn't have three-phase, the unit may not be compatible. Also, most wall mount pressure washers don't have standard plugs like most electric pressure washers. Instead, you wire the power washer directly into the existing power system. Most of these units require a 220-volt circuit or more, so you'll want to make sure you have this capability.
Warm Water

Common applications for wall mount pressure washers are commercial kitchens and food processing facilities. To effectively sterilize these places, it often requires warm water. The good news is some wall mount pressure washers allow for this. Warm water wall mount pressure washers can handle water temperatures up to 180 degrees.
Ceramic plungers on the triplex pump can tolerate the higher temperatures. Warm water is especially crucial when cleaning greasy or oily messes. The heat will melt away solidified grease and grime, so restaurant owners don't have to worry about slipping on greasy floors in the morning.
Variable Pressure

One of the most important features to look for on a wall mount pressure washer is variable or adjustable pressure controls. This way, you can tailor the strength of PSI depending on your cleaning task. Throttling the pressure is important when cleaning indoors or around vehicles. Blasting grease from behind a deep fryer - crank it up. Rinsing detergent from a tile backsplash - turn it down.

Shop All Wall-Mount Pressure Washers
Was this article helpful?