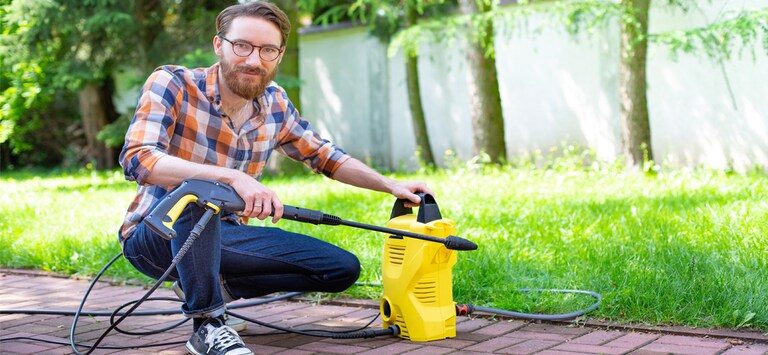 Consumer Handheld Electric Pressure Washer Guide
Picking a Handheld Consumer Electric Power Washer
There are many different sizes of pressure washers, but going bigger isn't always the best choice.

If you're only looking to clean your vehicles and perhaps a walkway now and then, you don't need a big bulky gas-powered commercial grade pressure washer.

If you're looking to use your pressure washer occasionally for small cleaning tasks, a consumer electric handheld pressure washer will serve you just fine, and you'll spend less for it too.

Consumer handheld electric pressure washers are great for smaller, infrequent cleanup chores around the house.
Motor

Universal (or brush) motors are typically found in small, hand-carry pressure washers and perform the job at a very inexpensive price. If you rarely use your pressure washer, you can save some money by purchasing an electric power washer with a universal motor. It just won't last as long.

Induction (or brushless) motors, however, are typically used in larger, more powerful electric power washers. They typically last longer than universal motors. They also cost more. If you want an electric pressure washer that lasts, spend the extra few dollars and buy one with an induction motor. Look to one of our other categories for pressure washers with induction motors.
Ease of Use

One of the main reasons handheld electric pressure washers are so popular with consumers is how easy they are to use. First, all you need to get one going is a household electric outlet. Just plug it in and go.

The other main reason is how light-weight they are. You won't have a problem grabbing one and carrying it around the house as you clean. Plus, you can quickly and easily store them in small places, such as a shelf in the garage.
What Can It Do?

The biggest determining factor for a pressure washer purchase should be what tasks can the washer accomplish. These are great for use around the home and are best suited for smaller chores. The units range from 1350-1600 PSI.

These type of chores include, but are not limited to: washing your car, cleaning patio furniture and other outdoor items such as grills. If you're planning on doing larger projects, get a larger pressure washer and you'll save yourself a lot of time.

Shop All Hand Held Electric Consumer Pressure Washers
Was this article helpful?