Virtual Air Treatment - How to Get Clean Treated Air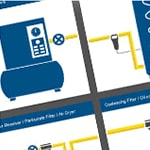 Looking for ways to treat your compressed air? Whether you're using your compressor for applying a smooth coat of paint to an automobile or using it for powering air tools, air treatment is an important part of doing the job right.

Removing water and contaminants from your compressed air can prolong the life of your air tools and keep your paints clean and dry so they apply more smoothly.

Browse our virtual air treatment guide for ideas on how you can improve the quality of your compressed air.



View Our Virtual Air Treatment Guide