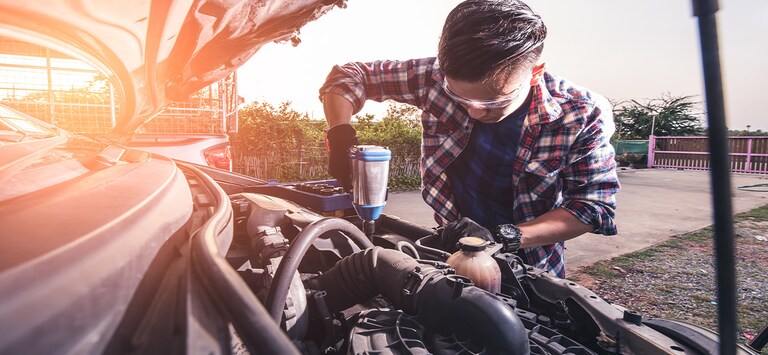 Is an Oil-Free Compressor Really Better?
Oil-Lubricated Vs Oil-Free Air Compressors
Whether you're a homeowner, contractor, or mechanic, at some point you've probably debated oil-lubricated vs. oil-free air compressors and wondered to yourself, "What's the big difference?"
New information and technology seem to change every year, and while the 'oil vs. oil-free' question persists, the arguments don't always keep up with these developments. 
So, let's separate fact from fiction and get to the bottom of the debate. The next time your buddy wants to argue what makes the best compressor, you'll have ammunition about both. 

The Oil vs. Oil-Free Conundrum 
The differences that separated oil-lubricated and oil-free compressors years ago aren't the same today, even though the terminology hasn't changed that much. However, there seems to be unnecessary confusion because some people compare all different types of compressors at once when in fact the debate, at its core, is really about the most common type.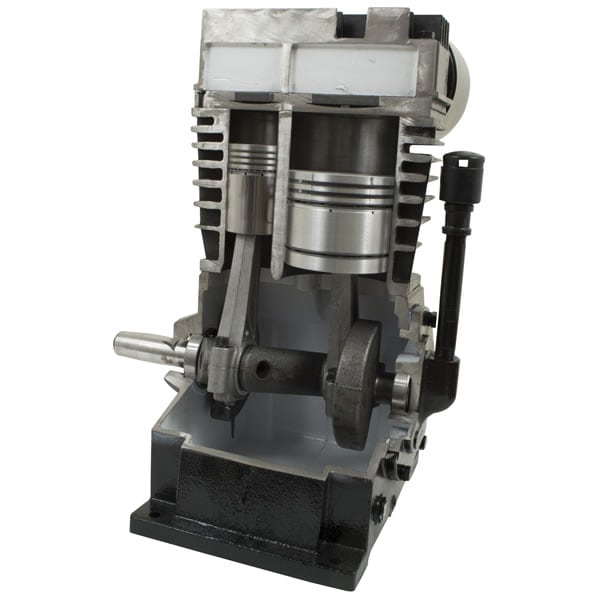 For argument's sake, we're not talking about compressors used for heavy-duty or commercial industry applications because those compressors have specific demands that 2-stage, rotary screw, or scroll compressors deliver; we're simply talking about the most common types of compressors encountered every day: reciprocating single-stage piston air compressors.
How Air Compressors are Lubricated
All compressors, regardless of their type, need a method of lubrication to moderate heat, friction, and the wear-down of the pump and critical components. The biggest difference, however, is whether the lube comes from oil or a special material coating.
Oil-Free Lubrication
Oilless compressors do not use oil for lubricating. Instead, their wearable parts are coated in special friction-reducing chemicals and are designed to be self-lubricating for the life of the compressor. 
Splash Lubrication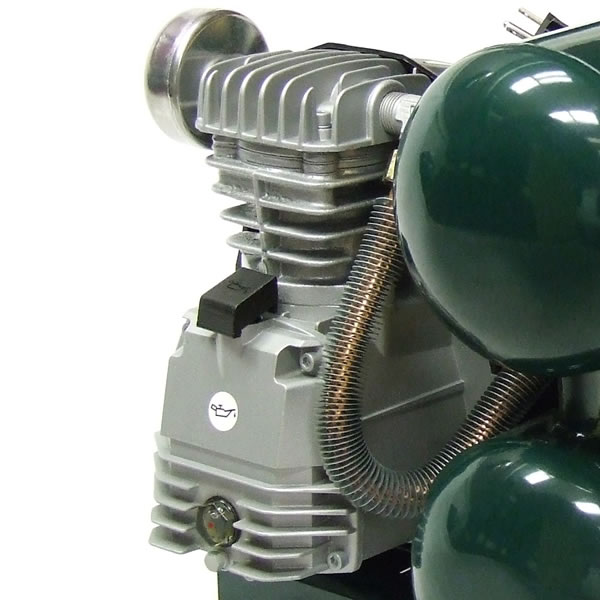 The most common type used, splash lubrication is just how it sounds. These compressors use rotating dippers (think of small flat spoons) attached to the bottom of connecting rods that swing and splash oil up from the reservoir against the internal moving parts.    
Is Oil or Oil-Free Better?
Now you know the basics of each type, we can now answer the question, "How does oil-free compare to oiled and which is better?"  You've undoubtedly heard some myths, so let's debunk them and explain what they mean to you, the user. 
Myth #1: Oil Lubricated Compressors Last Longer
The chief argument these days is that oil-free compressors can't match the longevity and dependability of oil lubed compressors and therefore don't offer the same value. Routine maintenance and regular oiling tended to make oiled compressors more durable and have a longer lifespan than the first versions of oil-free machines. Although that might've been the case before oil-free technology took off, it just isn't true anymore. Today's oilless compressors run cooler and come better protected than ever before.

Myth #2: Oil-Free Compressors Are a Lot LOUDER
Again, the oil-free compressors of yesteryear were unquestionably loud, but today's designs feature direct-drive, dual-piston (duplex) pumps and advanced sound-reducing technologies that make oilless compressors much softer than their oiled, shouty brethren. 
Myth #3: Oil Lubed Compressors Run Cooler and Withstand Extreme Conditions
Actually, the dual-pump designs of oil-free compressors allow them to achieve the desired CFM/PSI in half the revolutions (RPM). They also use heat-dissipating aluminum cylinders to run cooler. In fact, oilless compressors are preferred in extreme cold because there's no worry about the oil turning to sludge. On the other hand, oiled compressors may be desired if working in extreme heat and humidity, because they can dissipate heat more quickly in a given duty cycle and resist rust build-up.    

Advantages/Disadvantages of Both
Oiled Compressors 
An industry-standard among professionals, oiled stationary compressors are typically installed in a shop where high pressure and volume keep all of the tools running all day, every day and stand up to years of abuse if properly maintained.  
Suited to professional applications
Higher RPMs mean higher PSI/CFM ratings 
Heavier, not as portable
Requires routine maintenance
Can be used in hot climates
Oil contaminates the air
Oil-Free Compressors
These types of pumps (duplex) operate at lower RPM, reducing the noise, heat, and friction which extends the pump's life cycle and, mixed with better castings/exacting tolerances and better frictionless coatings, make oil-free a great choice in many applications.
Cleaner, drier air
Lighter weight, more portable
Maintenance free, no oiling needed
No oil filters required
Can be used in cold weather
Quieter, more efficient

How to Pick One Over the Other 
The first step with any piece of equipment is to consider how it will be used before evaluating other items such as cost. We're so used to the oil-less debate only referring to small, portable compressors that it's easy to forget that they're also available as stationary, single-stage piston compressors as well. 
Let's take a look at the differences between oil and oil-free stationary and portable compressors in more detail.
Oil vs. Oiless Comparison

20 Gal. Poratble

Oil Lubricated

20 Gal. Portable

Oil-Free

60 Gal. Stationary

Oil Lubricated

60 Gal. Stationary

Oil-Free

Weight & Pump Drive Type
200 lbs
Belt Drive
110 lbs
Direct Drive
261 lbs
Belt Drive
213 lbs
Direct Drive
Pump Material
Cast Iron
Aluminum
Aluminum
(Cast Iron Sleeve)
Aluminum
Max PSI
135 PSI
125 PSI
130 PSI
120 PSI
Max CFM
5.2 @ 90 PSI
5.8 @ 90 PSI
12.8 @100 PSI
10.6 @ 90 PSI
Noise Rating
80 dBA
41 dBA
N/A
75 dBA
The Bottom Line
So, if you're a DIY homeowner or contractor looking for a portable compressor, to carry around the job site, then an oil-free option may be desirable for its lighter weight and ability to use them in any orientation. 
If you're a commercial business looking for a stationary compressor to power high PSI/CFM pneumatic tools, you may opt for an oiled compressor. Or, if you're concerned with noise, air purity, changing filters and maintenance, then an oil-free stationary compressor would be ideal.  
The bottom line is to get the air compressor you need for the job you need to perform; it'll pay you back to listen to your gut and get the facts. If you ever need help deciding, we're here to help. 

 NEXT: How to Pick the Perfect Air Compressor 
Was this article helpful?