Portable Outboard Motor Buyer's Guide
How to Pick the Perfect Portable Outboard Motor
By Dale V.
Outboard Motor Expert
Whether you're trying to get to the best fishing spots or just want to explore a new lake, portable outboard motors are a popular way to enjoy your favorite body of water.
Portable outboard tillers are ideal for aluminum fishing boats, jon boats, utility boats, pontoon boats, and even for sailboats when there's not enough wind. Besides being light and compact to transport, new portable outboards are increasingly quiet, reliable, and fuel efficient.
Before investing in an outboard motor for your small boat, it's important to familiarize yourself with the basics and features available on the market today to find the best option.


Horsepower
Horsepower is one of the first things you'll find yourself considering when shopping for an outboard motor, but more horsepower isn't always better.
Horsepower must be chosen based on the size of the boat. If you have a small boat with a large engine, it'll cause the boat to be less stable, and the added power can cause stress and damage to the transom. In the same respect, having too small of an outboard on a larger boat can burn out the motor due to increased drag and excessive demand.
Matching your motor size to your boat size will provide stability and reliability. Refer to the National Marine Manufacturers Association Certification Plate inside the stern of your boat to find its horsepower rating. This will tell you the largest size motor your boat can handle.


Transom Height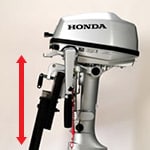 The transom of a boat is the part of the hull (backend) where you mount your outboard motor. It's a very critical part of the boat because the entirety of the thrust and momentum from the motor will be transferred to the boat via the transom.
To measure the transom height, you need to measure from the top-center section (where you attach the portable outboard motor) to the bottom-center of the hull.
When shopping for a portable outboard motor, look at its transom height. The outboard's shaft length should be about two inches longer than the boat's transom height. This places the anti-ventilation plate and propeller well below the boat where it can optimally pull water from underneath and push it without the risk of airflow causing cavitation. Always refer to your owner's manual for specific sizing.

The diagram below shows recommended outboard heights for small transoms (15 inches), long transoms (20 inches), and extra long transoms (25 inches). It also shows how large an outboard motor should be relative to the boat's transom and water surface.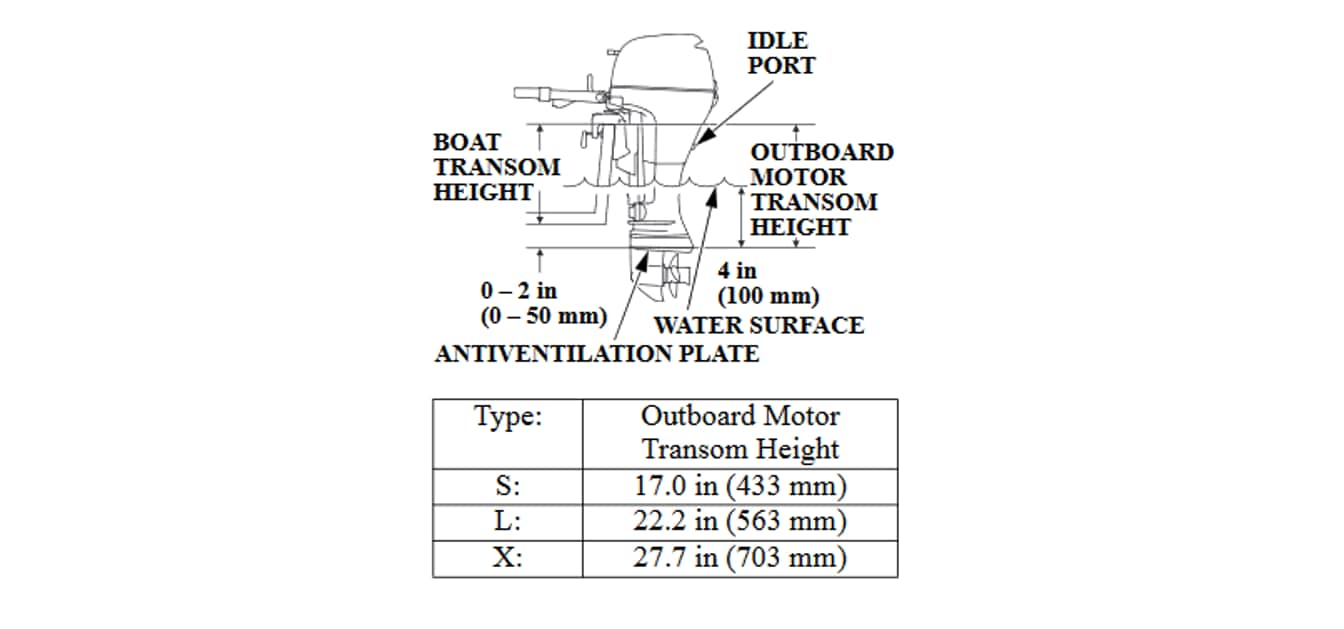 Fuel Type
Natural gas is no longer the only fuel option for outboard motors. Boaters are increasingly noticing the benefits of propane.
Not only is propane cleaner and more efficient than gas, but it won't degrade or gum up the engine. Propane engines also start more easily because the fuel is pressurized. Finally, it's more convenient for those who already use propane (i.e. for their grill) by eliminating the need to haul gasoline.
Of course, gasoline is usually less expensive and puts less strain on the engine valve seats than propane. It's also what has been used for decades, so many boaters are more comfortable with it.


Electric Start
If you've driven tiller-style outboards in the past, you may have experienced a recoil starter. Older recoil-start engines could be difficult at times, but today's recoil-start engines are often easier to start thanks to automatic decompression, which bleeds off cylinder pressure to reduce pulling force.
Nevertheless, if you want a quicker and easier start, some portable outboard motors today feature electric start.
Electric start allows you to get your motor going with the push of a button. So when you're drifting in the wind, about to wash into some rip-rap, you can simply press the electric start button and get away from those rocks.


High-Power Thrust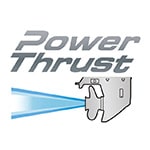 For better performance with heavy loads, some motors feature a high-power thrust propeller, designed to produce more thrust and control, especially in reverse.
The increased thrust results in better maneuverability and performance for heavier watercraft like pontoons and larger aluminum boats, so you'll have an easier time backing away from a dock and navigating against wind and current.
It's also a great feature for trolling, where you need to maintain precise speed control at all times.


Controls
You will want an outboard tiller that you can comfortably control while on the water. Manufacturers regularly update their outboard controls to be more simple and ergonomic.
The most convenient tiller handles are adjustable, longer for easier reach, and offer one-handed operation. You can control throttling, steering, shifting, and tilting in the palm of your hand.
For manual tilting, find a tiller handle that you can simply push down and snap into any angle. Many portable outboard motors feature power tilt. This is a great feature for larger motors that may be difficult to manually tilt. To trim the motor up or down while in motion, your motor must feature power trim.
There are a few reasons for tilting your outboard. When you're retrieving your boat at the boat launch, you'll want to tilt it up to avoid scraping it on the ramp during retrieval.
After you launch your boat, you'll need to tilt it down into the water. You may also need to tilt your motor up when entering an exceptionally shallow area, then back down as you return to deeper water. Do not use power tilt while the prop is engaged and the boat is in motion. This could cause serious damage, as power tilt is not designed for this purpose.


Electronic Fuel Injection (EFI)
Some modern outboard motors are built with EFI engines for faster, reliable starting and controlled throttle response in all weather. In addition, EFI engines won't gum up like carburetor engines and require less maintenance.
Although some boaters prefer the simplicity of carburetor motors, many fall in love with how much more cleanly and efficiently EFI models run, even in the cold. Of course, these benefits come with a price, as EFI outboard motors are more expensive.
Kicker Motors
Sometimes, you want to slow things down on the water. Certain outboard motors, called kicker motors, can be installed together with a larger outboard motor. These kicker motors allow boaters to troll at slower speeds while burning less fuel and putting less hours on their main engine.
They can also serve as back-up motors in an emergency and allow the boater to maneuver in shallower water with better control in tighter areas. If you want to use the kicker motor, you simply raise your main outboard up and lower the kicker into the water for easy switching.
Boat the Right Way
As you can see, there are many different features to weigh before buying an outboard motor, and each is important to enjoying the best small boating experience possible.
If you need help, you can call and chat with either myself or one of our outboard motor experts at 1 (800) 710-7499. We'll be happy to get you on the water.



NEXT: View & Shop Outboard Motors

Outboard Navigation

By Dale V.
Outboard Motor Expert
Was this article helpful?