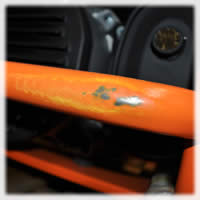 We ship thousands of orders across the country every year. The vast majority of our shipments arrive in pristine condition.

On very rare occasions, mistakes happen and brand new equipment gets blemished.

If you're the type of person who polishes your power equipment, you're probably perusing the wrong place.

If you're going to toss your power equipment into the bed of a pickup truck anyway, check out our scratch & dent section.

While it may look a little worn, our scratch and dent inventory is still brand new and cheap too.