Trucks and trailers are still the most common means for freight transportation.

Why?

Because it's efficient and can be delivered exactly where it needs to go.

This is why extreme power washing professionals choose to go with trailer mounted pressure washers.

Everything you need is on the trailer and you can clean anywhere you can drive your truck.



Water Tank
When you're cleaning on the go, you might not always have easy access to a water source. Well if that's the case, don't worry because a lot of these units come equipped with an on-board water tank.
These tanks are as large as 300 gallons. Once full, they weigh about 2400 lbs, so make sure your truck can handle towing the additional weight.

Trailer
Most of these pressure washers come already attached to a trailer, but some are sold ready to be mounted. They come on built-to-order trailers, made with heavy-duty 10-gauge steel.
If you already own a trailer, then go ahead, save some money and buy a unit which you can attach yourself. If you opt to go this route you can conceivably save thousands of dollars.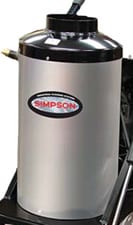 Cold-Water vs Hot-Water
If you know you want a trailer pressure washer, you'll need to decide if you want cold- or hot-water. Most regular portable pressure washers are cold water and they do a good job. Cold-water units will generally be cheaper and at the high-end, have higher GPM and PSI.
Hot-water units are better for cleaning grease and oil. The difference is the addition of a hot water heater, which can boost the temperature of the water by as much as 140 degrees. Another feature found on hot-water trailer pressure washers is steaming capability. This allows you to sanitize objects which might not be able to handle a deluge of high-pressure water.

Shop All Professional Trailer-Mount Pressure Washers