Do you pressure wash to live?

Or do you live to pressure wash?

If you answered, "yes," to the latter, a medium semi-pro gas pressure washer is for you.

These power washers have all the features a professional demands, although a pro may opt for something with a little more power.

Medium semi-pro units are popular with farmers, contractors and extreme-DIYers.

Axial Cam vs Triplex Pumps


When it comes to choosing a pump for your semi-pro power washer, your two options are better and best (axial cam and triplex). Axial cam are direct drive pumps, meaning they spin at the same speed as the engine, which will wear down faster than a triplex pump.

Triplex plunger pumps are the highest quality pressure washer pump, offering longer life and better performance. They also include a larger price tag, but if you intend to use your power washer frequently, it's well worth the expense. If the pump breaks down, you can get it rebuilt instead of getting a new washer.
Professional Features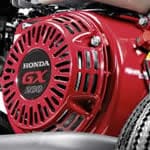 We named this grade of pressure washers "semi-pro" because they bridge the gap from consumer to professional. That being said, our semi-pro units are designed with a lot of features you'd find on a professional unit.
All but one of these washers come with a professional grade spray gun, something you'll appreciate when taking on big jobs. The best professional feature you can get would be an engine. The engine is what spins the pump. The pump is what pressurizes the water. So the better the engine, the better the pressure. Look for units with a Honda GX engine.
Spray Tips

A nice feature that accompanies medium gas pressure washers is a whole mess of spray tips - allowing you to tailor your spray to your cleaning task. If you're rinsing detergent from your siding, go with a wider spray. But if you're blasting mud or concrete from your tractor, choose a concentrated jet spray.
In a 5-pack, the tips are:
0° - red, concentrated pencil jet

15° - yellow, high performance

25° - green, multi-purpose

40° - white, sensitive surfaces

65° - black, low pressure detergent application

Shop All Medium Semi-Pro Gas Pressure Washers